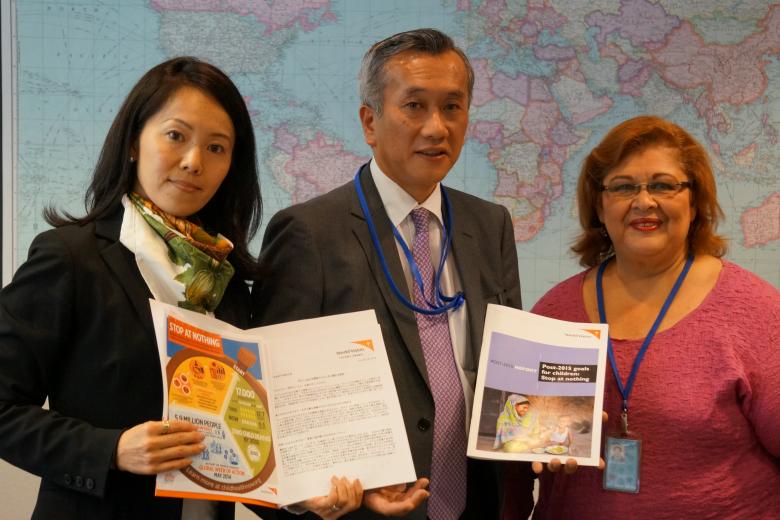 World Vision to Japanese government: 'Stop At Nothing' to protect children
Monday, October 13, 2014
By World Vision Japan's Noriko Shibata (Advocacy manager) and Toshihisa Nakamura (Advocacy officer)
During a meeting with World Vision Japan and World Vision International on 18 September 2014 in New York, Ambassador, Deputy Permanent Representative of Japan H.E. Mr. Hiroshi Minami highlighted that "It is about our children and grandchildren. Children are keys for the sustainable development, and therefore they should be treated favorably in the Post-2015 Development Agenda discussion."
World Vision was calling for the Japanese government to put children at the center of the Post-2015 Development Agenda discussion and to commit further for the achievement of MDG4. A policy brief and Child Health Now actions taken in Japan were handed to the Ambassador.
From June to July 2014, 36,384 actions for the Child Health Now campaign were registed with World Vision Japan. These actions and the policy brief submitted to the ministry of foreign affairs in Tokyo and New York have influenced the government of Japan to positively respond to World Vision Japan's call that the government lead children issues in MDGs and the Post-2015 discussions through continuous policy dialogues.
Areas that are crucial for the well-being of children such as health, nutrition and violence against children have been supported by the government of Japan. The government's financial committment to addressing health issues has increased by 13% this year, a major achievement considering the total amount of official development assistance in general typically decreases every year. 
World Vision hopes the Japanese government will commit further to put children at the center of its policy and to 'stop at nothing' to achieve a world where no child loses their life because of preventable causes and malnutrition, and can live free from violence.