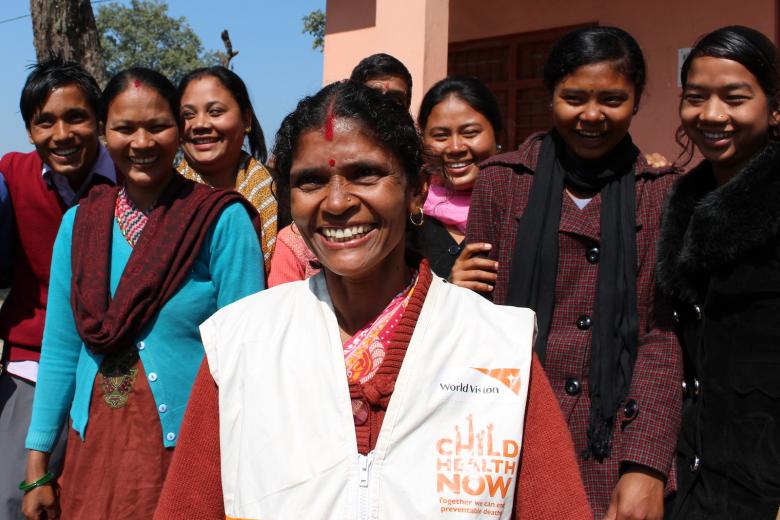 You won't believe what happened…
Friday, May 2, 2014
By: Matt Darvas; World Vision Australia
Have you noticed something about the way our news and current affairs headlines have changed lately? I have, and it's starting to bug me just a little… OK maybe a lot! Marketing geniuses must have stumbled across some basic instinct common to us all, that if a title contains the words, "You won't believe what happened …", then some deep impulse is triggered leaving us unable to do anything other than click, read, like, and share. I can't think of any other reason for the explosion of such headlines across the media landscape? Can you? So, why have I seemingly 'sold-out' and employed the exact same trick? Well, when Basanti told me her story of literally banging down a door to save the life of a mother and her unborn baby, I decided that this really was a story you had to hear to believe, and one that I am definitely hoping you will not just read but share, like, retweet and tell to at least one other person in your life.
Falling pregnant is one of the most dangerous things a women in a developing country can ever do. The proof is in the statistics. Each year around the world, a staggering 300,000 women lose their lives as a result of complications during pregnancy and childbirth.  As well as this, more than 2.6 million babies are stillborn, whilst another 2.9 million die before they are even a month old. What's worse is that many of these deaths could be prevented with access to simple low-cost interventions (things like a basic tube of antiseptic cream to prevent umbilical cord infection) and the presence of a skilled birth attendant. For women living in rural Nepal the reality of these risks is known all too well.
Standing a clear head and shoulders shorter than almost everyone around her, Basanti did not look like much of a force to be reckoned with, but boy was I about to be proved wrong!
Basanti is a 'Child Health Now' Ambassador trained by World Vision to fight against the prevalence of child and maternal mortality in rural Nepal. Basanti and the other ambassadors (most of whom are between the ages of 16 to 22) have made it their personal mission to ensure that every mother and their unborn child has the greatest chance at a safe delivery and the best possible start to life. Their strategy is as remarkably simple as it is effective at saving lives: as members of the local community, the ambassadors know exactly who is expecting and when, so they go to their house and meet with both husband and wife, educating them on the importance of a safe and supervised delivery, whilst informing them about the local services available to assist. Sadly however, things don't always go to plan….
It was early in the morning when Basanti got the call. A husband had locked his wife – who was now in her second day of labor – in a back room of the house and was forcing her to give birth alone. The woman was screaming out for help and things were getting worse quickly.
Knowing the couple herself, Basanti was furious and demanded the husband let his wife out, and that an ambulance be sent straight away. He refused. Time was of the essence as Basanti found out that this woman had already been alone in labor for two whole days. Measuring her options, Basanti called for the ambulance and sent it ahead to the village but it would only be able to reach a point that was still 5 kilometres walk from the house. Meanwhile Basanti made her way to the village herself and when she arrived, began to berate the other local men, telling them that unless the husband relented, they would all be held liable for the death of this mother and her baby. Well that changed their apathy! In only minutes, the men had physically entered the room, hoisted the mother and the bed onto their shoulders, and were on their way to meet the waiting ambulance. Thankfully mother and child were both safe, and the husband even thanked Basanti when she later came to visit.
Like I promised, a truly unbelievable story, one of perseverance and dogged determination that may have quite literally resulted in lives saved. Lives that might have otherwise been needlessly lost.
The Child Health Now Global Week of Action is taking place now from the 1-8 May 2014. In the year 2000, a promise was made by world leaders to reduce under-five child deaths by two-thirds by 2015.
 
Join this campaign and remind those leaders of that promise to help children survive five and call on them to finish the job.