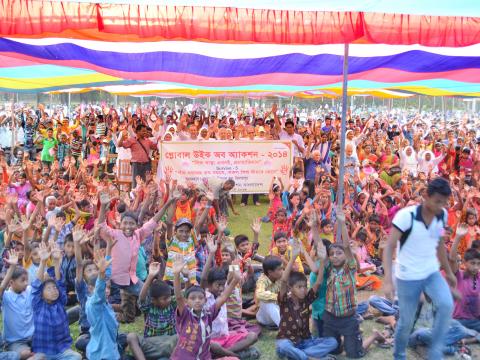 Stop at Nothing: a fairer future for all children
Read related posts:
In 2015 leaders from across the globe will decide the fate of the world. Their decisions will affect generations to come, the futures of all our children.
We need them to rise up boldly and stop at nothing to ensure that their actions create a fairer world for all children, and to ensure that no child is left behind.
15 years ago the world committed to 8 ambitious Millennium Development Goals (MDGs) that would half global poverty if achieved by 2015. The pursuit of these goals led to the biggest anti-poverty campaign in human history and resulted in nearly 100 million lives saved. Next year world leaders must ensure that the goals that replace the MDGs are equally ambitious and reflect a positive vision for the world.
A world where the next generation can not only survive but thrive. A world where the number of children dying from preventable causes is zero, not 6.3 million. A world where children going hungry is nothing but a memory. A world where children know nothing of abuse, violence, war or labour. A world made possible if individuals, corporates, organisations, leaders and governments stop at nothing to see it become a reality. 
Together we can achieve this! We need governments to ensure that the most vulnerable children are prioritised within the new goals and that they must:
Recognise that investing in children is the key to sustainable development. 
Spell out how it will achieve change for all children. 
Measure success in improvements made for unseen, uncounted and invisible children.
The progress made in the last 15 years has shown us that together we can change lives. Let's stop at nothing to achieve zero preventable child deaths!
Read the report from World Vision: Stop at Nothing: Post-2015 Goals for Children (also in French and Spanish). See the infographic.
Over the next year there will be plenty of opportunities to support, for updates follow Child Health Now on: