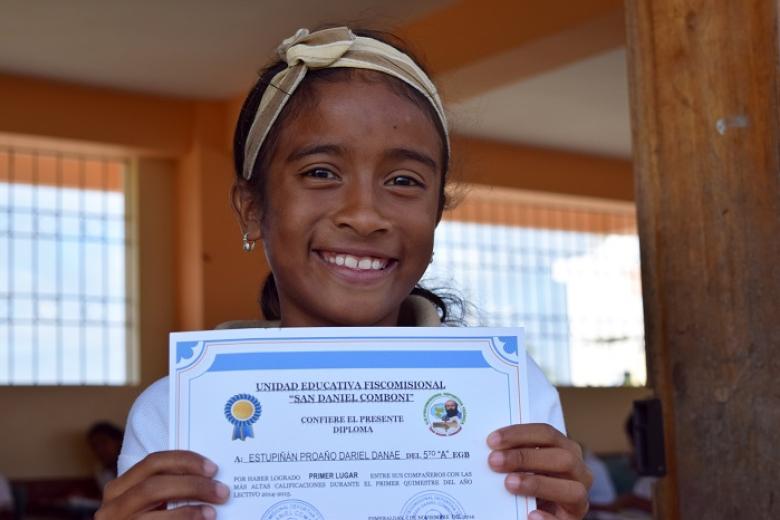 Dariel will go far: How sponsorship and education has helped a child and her family in Ecuador
Thursday, June 11, 2015
Nine-year-old, Dariel, lives in Esmeraldas, a small Ecuadorean town near the sea. After breakfast, she walks between reed and cement houses and down dusty, wide streets to her school.
Dariel is currently in her fifth year of primary school, and wakes up early to get to class to play with her friends, and enjoy her favourite subject – math.
Dariel's hard work, combined with the support her family receives through World Vision Ecuador's Sponsorship Programme, has positioned her for academic success. She recently received an award for being the best student in her school. This has earned her the respect of her teachers.
Dariel also supports other children by helping them with their homework. "Everything she learns, makes her smart and helpful to children," says her mother, Tanya.
"Everything she learns, makes her smart and helpful to children," says her mother, Tanya.
Dariel's life has changed in many ways thanks to World Vision Ecuador. In her early years, Dariel was a very shy girl and her family environment was unstable. However, her grandmother, Betty, has helped Dariel's mother take care of her ever since she was born. Betty, an important community leader, began volunteering with World Vision and brought Dariel to a variety of World Vision meetings and workshops.
Dariel started to learn about her rights, values and a healthy family environment. Betty also encouraged Dariel's mother to participate in 'Good Treatment' workshops to learn how to raise her children while respecting their rights and creating a healthy home environment. Little by little, Dariel started to overcome her shyness and learned to feel secure, and enforced her rights even at family level.
Those who know Dariel have high aspirations for her future. "She is very studious, she researches and always likes to ask, that is why she is the best of the class," says her teacher, Marcela. "She has demonstrated her capability and potential to go far."
Above: Dariel studies with the help of her tutor in class. (Photo credit: Santiago Mosquera / World Vision)
Dariel has not decided what she wants to be in the future, but singer, nurse, or model are on her list of possibilities. For now, she enjoys playing sports and hopscotch with friends in her neighbourhood.
RELATED LINKS