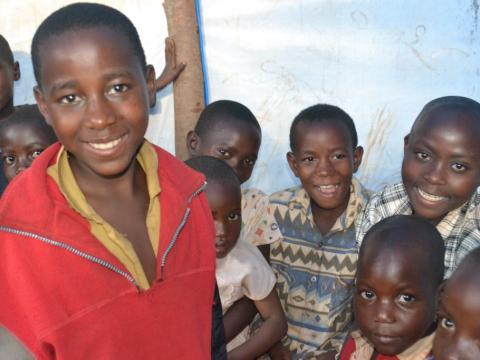 Many paths lead to keeping children in school in Burundi
Tuesday, August 16, 2016
Written by Javan Niyakire, World Vision
At the bottom of Ngayane Hill in Ntunda, Karusi Province, Burundi, children used to spend all their evenings playing. This situation recently changed: besides playing, part of their evening time is dedicated to learning how to read and write. Thanks to World Vision's Reading to Learn project, a reading club established in 10-year-old Emelyne's area is helping her to perform well in class. The children meet in a tent that serves as a reading club and as a nutrition rehabilitation site for the community.
Emelyne helps her peers to identify letters at the reading club. (Photo credit: Javan Niyakire / World Vision)
"In the last second term, I came up fourth in my class while in the first, I was the twelfth," says Emelyne. "The situation changed when I joined this reading camp."
Poor performance is at the root of increased rates of primary school drop-outs. In the second term alone, 721 out of 17,183 students dropped out of school in Gitaramuka. Local school authorities in Gitaramuka say they noticed that most of the children who drop out are those whose struggle to learn.
"I want to be a teacher when I graduate," says Emelyne.
Many factors are preventing students from performing well in school, including lack of teaching materials, overcrowded classrooms and a lack of qualified teachers. Compounded, these issues prevent school children from learning and lead to low grades and increased drop-out rates.
Local parents are aware of these challenges, and are working with World Vision to change this situation. Through parental awareness sessions, parents learn how to create an environment at home conducive to learning. They are taught to encourage children to think creatively about practicing literacy skills, which might include using a wall or banana leaves to practice writing on.
Emelyne's mother, Gloriose, now makes sure to take time to inquire about what her daughter studied at school and help her reinforce what she learned in class. "I want my children to go further in their studies than I did, as there is no bright future for them without studying," she says.
Emelyne's mother, Gloriose, participates in parental awareness training at the reading club. (Photo credit: Javan Niyakire / World Vision)
These activities – reading clubs, parental awareness training and teaching training – help children to understand what they are taught at school and hence perform well. This can help keep children in school.
Since the reading camps were implanted in Ngayane Hill, the attendance rate continues to grow. Three reading camps are now operational with around 180 children attending sessions.
The facilitator at Emelyne's reading club uses many methods - story telling, songs and arts and crafts - to help reinforce literacy lessons that children learn in school. (Photo credit: Javan Niyakire)
Improving the learning conditions and ensuring the opportunity to build reading camp facilitators; capacities will be an area of focus for World Vision and community members. Their hope is to work together to help Emelyne and her friends to fulfill their dreams.
Related links