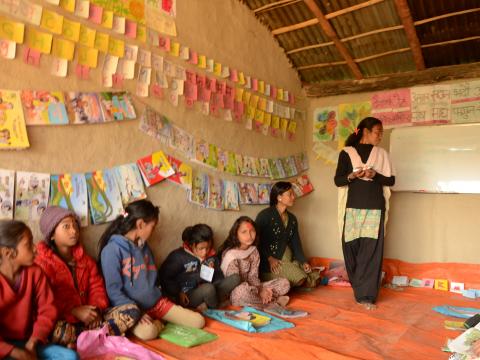 Reading clubs in Nepal support children's learning
Tuesday, August 16, 2016
Nine-year-old Prem sits listening to the story that volunteer reading club facilitator, Raj Kumari, is reading out. The story is about a girl named "Budhana" where she talks about her family and the things around her community. Prem sits beside Raj Kumari and looks at the story book and the pictures in the story. When Raj Kumari asks questions, Prem promptly answers back.
Raj Kumari reads a story to the children in her reading club. Prem (in red jacket) listens attentively. (Photo credit: Sunjuli Kunwar / World Vision) 
Prem is an active student in his local reading club. He responds to his teachers, interacts with his peers and is ready to learn. Prem's father, Dipendra, says that Prem used to refuse to go to school, but he is ready to go to the reading camp every week. In five months Dipendra has seen a lot of change in his son.
"He can read better, he can draw better," says Dipendra. "In fact he makes pictures and asks me to paste them outside on the wall of our house so that others can see them. I am very happy with the changes in him."
Prem reads to his father, Dipendra, outside their home. (Photo credit: Sunjuli Kunwar / World Vision)
Prem often comes back from his reading club and teaches his father songs he learned there or reads stories aloud to him. Prem recently told Dipendra about a story called "Bhakundo", which means football. "I want to become a football player like Messi," says Prem. "That is why Bhakundo is my favourite story."
Before the reading club existed children in Prem's community spent their weekends playing or just watching TV at home. Now many of them go to the reading camps in their village which are set up at school or at a volunteer's home or community centre.
Prem proudly displays his make-and-takes from the reading club on the wall outside his home. (Photo credit: Sunjuli Kunwar / World Vision)
Currently, there are 102 reading clubs running in Kailali District of Nepal. Sessions are held every Saturday and are 90 minutes long. They engage children in different activities like free play, song time, story time, activity time, make and take (arts and crafts) and journal writing. Around 2,300 children attend reading clubs in total.
"Even when the 90 minute class finishes they want to stay more and learn more," says Raj Kumari. "We usually have to stay for a longer time because they don't leave. Children here get the chance to learn more than what they are learning in school and in more interesting ways as we try to teach them using different methods."
Bandana, a reading club facilitator, helps children read words from her reading club's "word tree". (Photo credit: Sunjuli Kunwar / World Vision)
Bandana Choudhary facilitates another reading club. Colourful books hang on the walls, alphabets are drawn on different coloured chart paper, and there are games made from local materials. There are small stones painted with Nepali and English alphabets and numbers, and a tree branch with words stuck on it to look like leaves in a tree, or a "word tree," as Bandana calls it.
Read more about World Vision's approach to creating teaching and learning materials
 Sumitra and her friends at their local reading club. (Photo credit: Sunjuli Kunwar / World Vision)
When I visit the reading club, Bandana makes the children sit in a circle and tells them a story. Young Sumitra is one of those children. "I love coming to the reading club, and I eagerly wait for Saturday to come so that I can learn and spend time with friends. I have learned a lot of songs and stories here. I have seen many story books here which I had never seen before. It is so much fun here," she says.
Quick facts
In 2015, World Vision helped 32 schools to establish new literacy programming interventions.
Since that time, 86 teachers have been trained and 11,268 copies of story books have been distributed.
By the end of 2016, World Vision will expand the programme to 40 more schools and work with communities to open 124 reading clubs.
We'll distribute 25,000 copies of story books in Kailali and Udayapur Districts too!
Related links