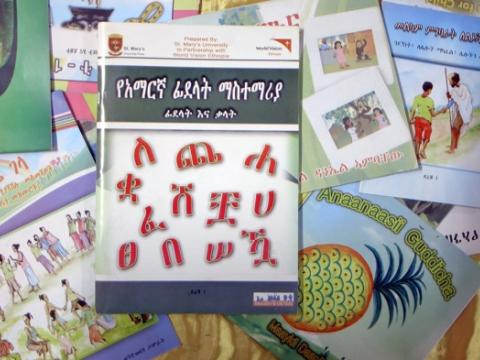 Creating Teaching and Learning Materials
Imagine trying to learn to ride a bicycle by listening to someone tell you how to do it, but never actually getting on a bike. Seems impossible, right? It is the same with learning how to read. Just as a new cyclist needs to practice balance, pedaling, braking, and turning, a new or developing reader needs to engage with different reading materials in order to build his or her literacy skills.
Learning to read is a complex process involving identifying letter shapes and sounds, putting meaning to words, reading fluently, and comprehension. Learners need to have an abundance of reading materials available to them - different stories and types of materials (books, toys, comics, posters etc), appropriate for their level of reading  – in order to become fluent readers who understand what they read.
However, availability of teaching and learning materials is not the end of the story. Educators, parents and communities must understand how these resources can be used in different ways to strengthen children's literacy skills.
How communities can help
Community involvement and participation in the development and use of teaching and learning materials is an essential part in developing children's literacy skills. This is a central component to sustainability and true transformation within a society. Through the use of locally available materials, parents, caregivers, siblings, and learners themselves can develop their own learning resources.
Learn more about World Vision's approach to teaching and learning materials.
Why creating local language teaching and learning materials matters
Children's first language is the optimal language for literacy and learning throughout primary school (UNESCO, 2008a), but many educational systems around the world teach children the national language or one not spoken at home.
Children are more likely to enroll and succeed in school when they're instructed in their mother tongue (Kosonen, 2005).
Parents are more likely to communicate with teachers and participate in their children's learning (Benson, 2002)
In developing countries, where there are limited resources, textbooks in appropriate languages and at appropriate levels of difficulty are shown to be relatively low-cost inputs with high returns in terms of student achievement (Boissiere, 2004).
RELATED LINKS:
______________
References
Benson, C. (2002). Real and potential benefits of bilingual progammes in developing countries. International Journal of Bilingual Education and Bilingualism, 5 (6), 303-317.
Boissiere, M. 2004. Determinants of Primary Education Outcomes in Developing Countries:
Background Paper for the Evaluation of the World Bank's Support to Primary
Education. Washington, DC, World Bank. (Report, 39157.)
Kosonen, K. (2005). Education in local languages: Policy and practice in Southeast Asia. First languages first: Community-based literacy programmes for minority language contexts in Asia. Bangkok: UNESCO Bangkok.

UNESCO (2008a). Mother Tongue Matters: Local Language as a Key to Effective Learning. Paris: UNESCO.