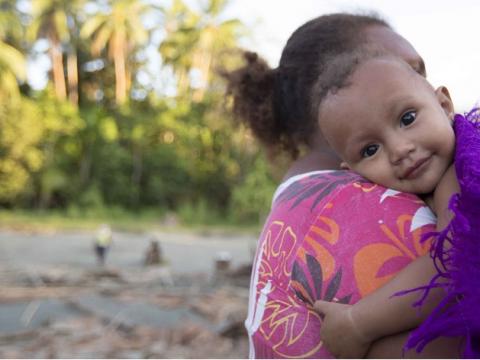 Early Childhood Development
World Vision's Early Childhood Development (ECD) programmes aim for one outcome: healthy children living up to their full developmental potential. All sectors contribute to this end, as all aspects of young children's growth and development are interrelated. Laying the foundation for healthy bodies, minds and spirits is at the centre of our work, and is a key step in meeting the Sustainable Development Goals.  
During the first 8 years, a child's needs and capabilities change more rapidly than at any other period, establishing essential brain architecture and behavioural patterns that contribute to all subsequent individual and societal outcomes. Within this window of time, essential life skills such as communication, self-regulation, problem-solving and executive functioning are built through their earliest relationships. 
Families are children's first educators and protectors. Nurseries, pre-schools and home- or community-based school readiness programmes enhance young children's well-being and their acquisition of critical education and life skills. As young children actively develop, a continuum of actors – including parents, caregivers, teachers, schools, community members, and policy makers – hold influence. Therefore, the quality of ECD interventions comes from a view of the complete environment of the child, to include and empower all of these stakeholders to create progressive changes that establish the strongest foundation for children's futures.
How World Vision works in early childhood development
Given the significance of cultural values upon child-rearing, the rapidly changing pace of early development, and the distinct needs inherent for target age groups, World Vision's ECD programming follows two strategic project models: Go Baby Go! (GBG) is primarily focused on a child's first 1,000 days of life (age 0-3), and Learning Roots works with children from ages 3 through 6. 
Why invest in early childhood development?
A child's brain grows more in the first eight years of life than any other time. Early experiences and the environments in which children develop during these years have lasting impact on later success in school and life.[1]

Despite the important role of early childhood development, 219 million children globally fail to meet their full developmental potential.[2] 
Early experiences can change an individual's body – affecting cognitive and emotional development as well as physical health. A growing body of evidence now links significant adversity in childhood to increased risk of a range of adult health problems, including diabetes, hypertension, stroke, obesity, and some forms of cancer.[3]
By age 3, children with college-educated parents or primary caregivers had vocabularies 2 to 3 times larger than those whose parents had not completed high school. By the time these children reach school, they are already behind their peers unless they are engaged in a language-rich environment early in life. [4]
 Related links:
[1] Center on the Developing Child (2010). The Foundations of Lifelong Health (InBrief). Retrieved from www.developingchild.harvard.edu.
[2] Grantham-McGregor, Sally et al. Developmental potential in the first 5 years for children in developing countries The Lancet , Volume 369 , Issue 9555 , 60 - 70
[3] Center on the Developing Child (2009). Five Numbers to Remember About Early Childhood Development (Brief). Retrieved from www.developingchild.harvard.edu.
[4] Ibid.