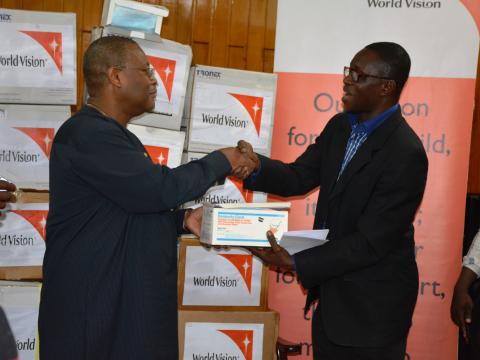 World Vision Ghana donates to MOH
Monday, July 13, 2015
World Vision Ghana donates to MOH
Accra, July 11, GNA - World Vision Ghana (WVG), a Christian Relief, Development and Advocacy organisation, on Friday presented over 20 pallets of assorted medical consumables worth $ 257,300.00 to the Ministry of Health (MOH).
The presentation, seeks to complement the efforts of government in the fight against the Ebola epidemic threatening West Africa.
Reverend Daniel Salifu, Operations Coordinator, WVG, who made the presentation, said the organisation is dedicated to working with children, families and their communities worldwide to reach their full potential by tackling the causes of poverty and injustice.
"This donation is also in keeping with World Vision Ghana's pledge to both the people and government of Ghana to do all within our power to support the campaign to prevent an Ebola outbreak in the nation
"World Vision's interventions are meant to ensure that children enjoy good health care and are educated for life among others," he said.
Rev. Salifu observed that as part of the World Vision's Ministry the focus is on emergency, relief and disaster management.
"We made an arrangement for one 40 footer container of medical supplies to be pre-positioned for Ebola response in Ghana," he said.
Mr Alex Segbefia, Minister of Health, said Ebola Viral Disease (EVD) is a national issue that needs all hands on deck to help contain and control its outbreak.
He said the donation of the medical consumables was timely especially when the EVD is at a preventive stage.
Mr Segbefia advised citizens to do the right thing and ensure that the EVD does not come to Ghana.
"It is important we remain vigilant, wash our hand and deal with sanitation as we should," he said.
He said the medical consumables would be distributed to the needed sectors to serve its intended purpose.
"These materials are going to be distributed widely and massively for all to be abreast of the knowledge and preventive measures of containing Ebola in the country," he said.
GNA