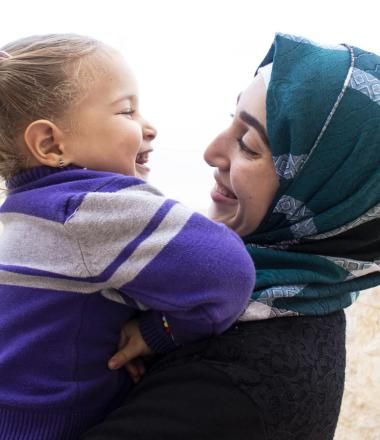 Go Baby Go
Building A Strong Foundation For Lifelong Health, Learning and Well-Being
The Go Baby Go (GBG) project model strengthens the knowledge of caregivers, their competencies, skills, confidence and well-being. Caregivers are equipped with tools for stimulating early childhood development so they can provide age-appropriate nurturing care for children under the age of three. The GBG model supports parents with individual, household-based support and group sessions for improved parenting skills, family well-being and holistic child development. The model can also support health services by equipping maternal and child health clinics with the necessary tools to improve the quality of the services the clinics provide and to make the environment of the clinics more child friendly. 
Increase in exclusive breastfeeding rates among Palestinian mothers
Women who participated World Vision's Go Baby Go programme in the West Bank learned the benefit of breastfeeding, leading to 85.7% of them choosing to exclusively breastfeed their babies for the first six months. The average rate of breastfeeding in fragile, vulnerable communities in the West Bank is only 37%. This level of change shows that mothers want what is best for their babies, and only need to be empowered with the right information. Hear from Ghada and Bassam about their experience with exclusive breastfeeding following the birth of their first child:
Go Baby Go can be implemented as a stand-alone early childhood development education programme or integrated into existing health and nutrition delivery platforms. 
Guidance and tools are available for integrating GBG into ongoing home visitor and support group programmes through a variety of existing portals of entry (Community Health Workers, Positive Deviance Hearth Plus, Celebrating Families, Grandmother Approach, MenCare, Community Health Committees, etc.), or in emergency settings through platforms such as Infant and Young Child Feeding Centres, Women Adolescent and Young Child Spaces, etc.
Go Baby Go is built on evidence-based parenting programme approaches and content, using behaviour change communication, appreciative inquiry and positive deviance approaches so that caregivers learn to build on existing knowledge about child-rearing and can leverage their strengths and assets as a community to enable their children to have the best possible start in life.
Download the Go Baby Go FACT SHEET
Contact us with any questions or for more information at health@wvi.org