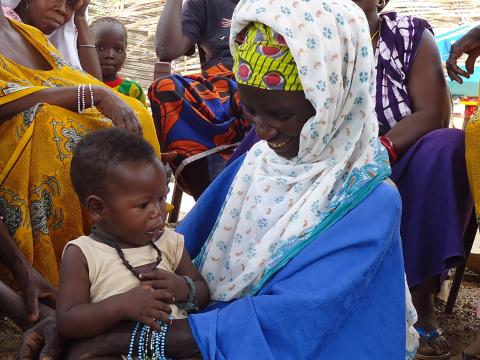 Grandmother-inclusive Approach
Hear from the grandmothers themselves in this video!
Grandmothers play a critical role in family and community life in societies all around the world, especially in caring for young children and advising and educating younger women on all aspects of family well-being. In many non-western societies, grandmothers have a particularly strong influence within the family context on the practices of younger women as well as on the decisions made by fathers and other men. Empowering grandmothers; enhancing communication between grandmothers, younger women and men; and strengthening the role of grandmother groups can also contribute to increased understanding and social cohesion within families and communities, as well as improved family and community health and well-being. 
Check out our blog on Transforming communities through the power of grandmothers for Development Unplugged on Huffington Post!
Click on the drop-down menu below to learn more about the Mamanieva project, a 3-year research project in Sierra Leone that showed significant changes in maternal nutrition practices, birth weight and infant and young child feeding practices, demonstrating the potential of this approach. 
The Grandmother-inclusive Approach
Dr Judi Aubel, founder of The Grandmother Project (GMP), developed the "grandmother-inclusive approach" or "change through culture approach", an original methodology for working with communities and promoting change in community norms and practices dealing with the well-being of women and children. 
The grandmother-inclusive interventions have been associated with improvements in maternal and child well-being in a number of settings. The three pillars of the strategy are:
Grandmother-inclusion

Intergenerational dialogue

Use of participatory communication approaches based on adult learning and community development principles. 
Click here to see a video that includes a short clip from Judi Aubel and learn more about the Grandmother-inclusive approach.
MAMANIEVA PROJECT IN SIERRA LEONE
In 2012, World Vision began research to examine the role of grandmothers to improve infant and young child feeding practices, in partnership with Emory University, The Grandmother Project and Sierra Leone Ministry of Health (Bonthe District). The goal of the Mamanieva project was to better understand the influence of grandmothers on maternal and child nutrition in Sierra Leone and to engage grandmothers more effectively as agents of positive changes using the grandmother-inclusive approach. The project began in 2012, with a baseline survey in 2013 (with technical support from Njala University), a process evaluation in June 2015, and final evaluation in May 2016. 
Final evaluation results showed that Mamanieva was effective in empowering grandmothers and improving their knowledge, attitudes and self-efficacy:
Changing beliefs and knowledge of grandmothers  to:
Support 

improved nutrition

 for pregnant women, infants and children
Changing beliefs and practices of mothers:
Increased frequency of meals during pregnancy

Increased amount of foods consumed during pregnancy
Decreased workload during pregnancy
Increased early initiation of breastfeeding
Increased diet diversity and micronutrient (IFA) consumption
Improving birth outcomes
Early initiation of antenatal care
Almost universal delivery at health centres
Increased mean birthweights
These overwhelmingly positive results confirm that engaging and educating grandmothers can translate to sustainable improvements in maternal child nutrition and health and the well-being of some of the most vulnerable children.
Evidence of impact
Impact on grandmothers' knowledge, attitudes and self-efficacy

·         Among grandmothers in intervention communities, nutrition knowledge scores at endline were significantly higher compared to controls (12 versus 10 points, out of a possible score ranging from 0 to 16).
·         Grandmothers in the intervention communities at endline felt more empowered and confident about themselves and their abilities than those in the comparison communities, as expressed in higher self-efficacy scores (20 versus 15 points, out of a possible score ranging from 0 to 20).
·         Positive beliefs about specific infant and young child feeding (IYCF) practices increased more from baseline to endline among intervention communities compared to control communities.
·         At baseline, 64 per cent of grandmothers in both intervention and control communities believed women should eat more food when they are pregnant. At endline, this proportion remained unchanged in the control communities, but increased to 96 per cent in the intervention communities.
·         At the close of the Mamanieva Project, 90 per cent of grandmothers in intervention communities understood issues of proper nutrition for mothers and babies, significantly more than in comparison communities.
·         At baseline, 78 per cent of intervention grandmothers believed infants should be breastfed within an hour of birth. At endline, the proportion of grandmothers believing in early initiation increased among intervention grandmothers to 100 per cent. 
Impact on maternal nutrition, health-seeking practices and birth outcomes
·         More pregnant women in the Mamanieva Project achieved minimum dietary diversity (eating food from five or more food groups) compared to those in comparison communities (96% versus 62%).
·         A significantly greater proportion of mothers with children under 2 in intervention communities reported consuming more food (95% versus 64%), increased meal frequency (96% versus 59%), consumption of iron tablets daily (92% versus 74%), and reduced workload (96% versus 76%), during pregnancy.
·         Mothers in intervention communities were more likely to receive antenatal care sooner than women in control communities (first visit at 9 weeks versus 12 weeks, on average).
·         Significantly more women in intervention communities (90%) reported no complications in their pregnancy compared to control communities (79%).
·         Birthweight, a useful proxy for maternal nutrition and health during pregnancy, and a predictor of future child health and growth, was significantly higher in the intervention group (3.3 kg ±0.5) compared to the control group (3.1 kg ±0.4) at endline. The proportion of infants born weighing less than 2.5 kg and at risk, was almost three times more (7.8%) among the comparison community than in the intervention community (2.7%).
 Impact on infant and young child feeding practices
·         Significantly more children 0–23 months from the intervention communities were exclusively breastfed during the first week of life (90%) than in comparison community (79%).
·         The proportion of children 6–23 months achieving three key IYCF indicators was significantly higher in the intervention group than in the comparison group:
o   77 per cent achieved minimum diet diversity (diet quality) in intervention communities while about 52 per cent achieved this in control communities.
o   Over 60 per cent of children 6–23 months in intervention communities achieved minimum meal frequency (quantity of food) versus 51 per cent in comparison communities.
o   Over half (54 %) of children 6–23 months in intervention communities had a minimum acceptable diet (both diet quality and quantity for the child's breastfeeding status), compared to less than one quarter (23%) in comparison communities.
Men's perceptions of the project
·         Overall, men perceived the project positively.
·         Men credited the project with decreasing maternal death and improving child health.
·         Men said that women were listening to the grandmothers' advice, and were eating more nutritious foods during pregnancy.
·         Both men and grandmothers felt that men should be more engaged in programme activities so they can help support women achieve better maternal and child health outcomes, enhancing the enabling environment created by the Mamanieva Project.
Additional Resources
An Executive Summary of the Mamanieva Project in Sierra Leone
Blog Transforming communities through the power of grandmothers for Development Unplugged on Huffington Post
Articles: Growing Healthy Babies with Grandmothers and Mamanieva Project - A blessing to us
Presentation at Global Adolescent Health Conference May 2017 as part of Behavioural Change Interventions to Address the Health and Nutritional Needs of Adolescents session, exploring new models of outreach targeting adolescent girls to positively influence health-seeking behaviour and nutritional status, including strengthening the role of grandmother groups in Sierra Leone. CanWaCH has made video of this session available, as well as video of the entire conference.

Presentations at Experimental Biology Conference May 2017: 
Presentation at World Nutrition Congress in September 2016: Mamanieva: Process Evaluation of the Grandmother-inclusive approach promoting maternal, infant and young child nutrition in Sierra Leone 
A short brochure entitled "Mamanieva: Engaging grandmothers to promote optimal nutrition and care of women and their young children"
Oral presentation given at Women Deliver 2016

GRANDMOTHER GUIDE
World Vision has worked with Dr Aubel in the past and was pleased to work with her again in developing a guide to the grandmother-inclusive approach, entitled Involving Grandmothers to Promote Child Nutrition, Health and Development: A guide for programme planners and managers. The guide is also available in French. 
The Grandmother Guide is intended for NGO and government programme managers who design, implement and evaluate community programmes that impact children, such as child nutrition, health, agriculture and broader development programmes. The Guide's purpose is to help programme managers increase their knowledge, skills and commitment to 1) respect and build on culturally designated roles of family members; 2) include grandmothers as key actors in programmes on child health, nutrition and development; 3) strengthen communication between generations within families and communities; and 4) promote participatory communication methods that strengthen community capacity to analyse situations and take action.
The Grandmother Project partnered with TOPS and USAID to produce a publication entitled "Focus on Families and Culture: A guide for conducting a participatory assessment on maternal and child nutrition" which includes case studies/examples from World Vision's work with GMP in Sierra Leone, Mauritania, and Senegal. The participatory assessment is detailed in the WV/GMP Grandmother Guide, and this resource provides additional guidance on planning and carrying out a rapid community assessment on family roles and influence related to the first critical 1,000 days of life.
Another useful resource, which provides more detail to an approach described in the WV/GMP Grandmother Guide, is Stories Without An Ending: An Adult Education Tool for Dialogue and Social Change, also produced by The Grandmother Project, TOPS and USAID. The Stories Without an Ending approach is an adult education tool that can be used to actively engage community groups in discussion of issues of priority concern to them and/or to development programmes and to catalyze discussion of those ideas in the wider community. The generic methodology can be used to address a variety of issues dealing with maternal and child health and nutrition, as well as other questions related to early childhood development, adolescent health and well-being, and child protection. Judi Aubel discusses this tool more thoroughly in this video. 
Previous collaborations with The Grandmother Project
World Vision has collaborated with The Grandmother Project and Judi Aubel since 2006, tackling issues such as early marriage, female genital mutilation, teenage pregnancy, behaviour change communication on maternal and child nutrition and other health topics, and development of literacy materials with the aim of re-engaging grandmothers as trainers and mentors of the younger generations.
Innovative Literacy Materials in Senegal (2006)
In 2006, World Vision began collaborating with The Grandmother Project in Senegal. The first partnership involved research into the diminishing role of grandmothers in Senegalese society (Halpular communities in Velingara district) and analysed how this gap could be bridged to revitalise the educational role of these elders. This resulted in the production of a booklet on "The Role of Grandmothers in Halpular Culture" in both French (for schools) and Pulaar (for adult literacy classes). A series of half-day meetings were held to introduce the booklet to 250 primary school teachers, literacy teachers, and other partner development organizations and the booklets were distributed and utilized in schools, literacy classes and communities to re-engage grandmothers as trainers and mentors of subsequent generations.
"This project has helped us to put our finger on something that we had forgotten in development programmes, our cultural roots. At school, children learn a lot about other places and other values but not from our own traditions and values. We have lost something very important and these activities that bring grandmothers together with children can give these young people a chance to learn from the grandmothers who have so much to share." Patrice Diatta, World Vision Coordinator, Velingara
Consensus was that the booklet and subsequent training helped teachers promote the teaching of cultural knowledge and values, encouraged elders to become involved in the schools and to reclaim their role as educators in the family and community, and strengthened communication between the generations. The innovative literacy materials produced in this project served to strengthen the role of grandmothers in their role as transmitters of cultural values and traditions, to help safeguard positive cultural traditions and, at the same time, to reinforce intergenerational relationships and learning.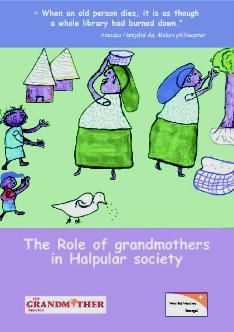 Maternal and Child Nutrition and Health Behaviour Change in Mauritania (2007)
A second endeavour began in Mauritania in 2007, this time with the goal of engaging grandmothers to deliver behaviour change communication on maternal and child nutrition and other health topics. The programme is centred on the premise that in all African societies, there are grandmother leaders who play an advisory role, not only for their own daughters, daughters-in-law, sons and sons-in-law, but also for other women and men in the community. Their important role is often recognised by formal leaders and others in the community, but they are usually overlooked as potential resource persons.
"Grandmothers play a central role at the family level in relation to all aspects of maternal and child health, education and development given their experience, availability and commitment to promoting the well-being of all family members." (GMP & World Vision Mauritania Study, Nouakchott, 2006.)
The Mauritania project used participatory learning activities to:
strengthen the knowledge of grandmother leaders on key nutrition, health and child development topics
enhance the skills and confidence of grandmothers as leaders in the community.
The learning materials, designed by GMP, were adapted to the needs of the grandmothers, most of whom are illiterate. The materials are based on an adult education approach that stimulates participation, reflection and problem solving. Most educational efforts relating to nutrition and health employ a 'message-based approach', disseminating messages about what should be done. Recognising that simply telling people what to do is not very efficient in promoting changes in attitudes or practices, Grandmother Project activities instead favour dialogue and reflection about popular or traditional practices and attitudes, as well as about more 'modern' ideas regarding the priority nutrition and health topics.
In partnership with World Vision, the materials had been tested over a six-week period with grandmother groups in Ologa (southern Mauritania) in July and August 2007. The length of the activity may have been too short to see sustained changes in the attitudes and advice of grandmothers. However, individual interviews with the grandmothers suggest that there were several promising changes.
BEFORE: In the initial interviews, many grandmothers defended the idea that pregnant women should not eat too much and above all not in the last three months of pregnancy.
"It is bad for a pregnant woman to eat a lot. If the foetus is small, the delivery will be much easier. During the last three months she should eat light things, such as millet gruel." – Grandmother Leader
AFTER: Through the activites, the grandmothers learned that midwives advise pregnant women to eat four times a day, right up to the time of delivery, so as to put on a lot of weight. During the final interviews, most of the grandmothers said that it was important for pregnant women to eat more meat, eggs and liver. The grandmothers' comments suggested that they had started to rethink their attitudes toward both the amount and type of food eaten by pregnant women.
"Before, I thought gruel was sufficient, but now I've learned that liver and meat are good for pregnant women." – Grandmother Leader
BEFORE: At the start, all the grandmothers maintained that breastfeeding was essential for newborn babies. However, only a few were convinced of the importance of exclusive breastfeeding for six months.
AFTER: In the interviews held after six weeks of group educational activities, the majority of grandmothers defended the importance of giving only mother's milk for the first six months. They maintained that they are now convinced of the importance of breastfeeding as much as possible and not giving water during the first six months. Various grandmothers said that during the night, they now wake up the baby's mother so she is able to breastfeed sufficiently.
"With my own children, and with all my children's children, I always gave them water from two months onwards. Now I know that they should be given only their mother's milk during the first six months." – Grandmother Leader
Girls Holistic Development Project (2008 to 2011) in Velingara, Senegal (The Grandmother Project, World Vision, funded by USAID)
World Vision, in partnership with The Grandmother Project, worked in the Velingara region of southern Senegal through the Girls Holistic Development Project, with funding from USAID. The three-year project contributed to very positive changes related to early marriage, female genital mutilation (FGM) and teen pregnancy. The project promoted healthy and holistic development of girls through intergenerational dialogue that focused on the revival of positive cultural values and practices, with grandmothers playing a central role. The basis for the approach is improved communication between generations and between members of the opposite sex. This perspective transforms grandmothers and community elders from being a source of the problem to being the solution.
A 2011 evaluation of the project showed strengthened social and community relationships; reduction in harmful traditional practices related to girls' development, such as female genital mutilation (FGM) and early marriage; and reinforced community capacity to promote girls' health and well-being. When the project began, only 41% of grandmothers believed that the risks of FGM outweighed the benefits. Within two years, 95% of grandmothers felt that it was too risky to practice. The percentage of mothers who viewed FGM as a "cultural obligation" fell from 88% to 9%, and the percentage of grandmothers with this opinion decreased from 86% to 5%. In addition, there was a significant decrease in teenage pregnancy; the average age at which a girl was married increased from 15.6 to 17.3 years; and there were positive changes in actions undertaken by families, communities, and schools to promote appreciation of positive cultural values and traditions on the part of young and adolescent children. 
Grandmothers expressed that they now felt that they are valuable members of the society, and they are more confident and proud of their role. One woman expressed her position:
"Before it was as though the grandmothers were inside of a room and the door was closed, and they communicated verylittle with others. Now with the project it is as though the door was opened and now we can easily interact with, and communicate with everyone."

The elderly men are also feeling empowered and valued as they create new bonds with their families and support their wives in positive ways. Grandfathers are more frequently present in community meetings; there is open communication between grandfathers and the youth and a sharing of knowledge.
Read about additional lessons learned in the report entitled "Girls and Grandmothers Hand in Hand: Dialogue between generations for community change."

Dialogue to Report Change from Within: A grandmother-inclusive and intergenerational approach to promote girls' health and well-being and to eliminate FGM Report
Click here for video entitled Girls and Grandmothers Hand in Hand - documenting World Vision and The Grandmother Project work to combat Female Genital Mutilation in Velingara, Senegal. 
Read Population Reference Bureau article (Feb 2010)
Click here to see a video and learn more about the Grandmother Project's work (this project in Velingara worked to involve grandmothers in reducing early marriage).
Publications 
Contact
For more information on the Grandmother Approach, please contact World Vision expert:
Bridget Aidam
nutrition@wvi.org