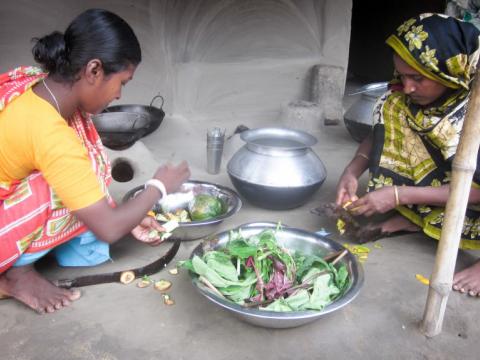 Positive Deviance/Hearth
Monday, December 17, 2012
PD/Hearth is a well-established methodology for sustainably reducing malnutrition in young children using community wisdom. It is one of World Vision's core project models in nutrition.
Read on for an overview of PD/Hearth then download key resources for full how-to details and support. Download a PD/Hearth Impact Report.
What is PD/Hearth?
PD/Hearth is a community-based rehabilitation and behaviour change intervention for families with underweight preschool children. The 'positive deviance' approach is used to identify behaviours practiced by the mothers or caretakers of well-nourished children from poor families and to transfer such positive practices to others in the community with malnourished children. The 'Hearth' or home is the location for the nutrition education and rehabilitation sessions.
The PD/Hearth approach was initiated in the 1970s in Vietnam by Save the Children, and has since been implemented all over the world by many different organizations. World Vision began implementing PD/Hearth in Guatemala and Honduras in 1999. Currently World Vision projects in more than 35 countries are using PD/Hearth to address child malnutrition.
Where should PD/Hearth be implemented?
PD/Hearth should be implemented in any community where at least 30% of children under 5 are underweight (low weight for age). The Measuring and Promoting Child Growth tool explains how to accurately weigh children. In addition, PD/Hearth is only feasible in areas that are food secure and where homes are in close proximity to one another.
How does PD/Hearth work?
There are three stages to the PD/Hearth process, following the training of the PD/Hearth Coordinator, initial community mobilisation, and training of the community volunteers.
Preparation
Conduct Situation Analysis, including wealth ranking; weighing all children under 5 to determine who is malnourished; focus group discussions; transect walk and community mapping; market survey and seasonal calendar
Conduct Positive Deviance Inquiry (PDI) to identify local practices which promote good nutrition.
Design six key Hearth messages based on PDI findings.
Address basic health needs for all children through de-worming, updating immunisations, providing micronutrient supplements if needed etc.
Education and Rehabilitation
Develop Hearth menus using PD foods and other nutrient-rich foods which are locally available and affordable
Conduct 10-12 days of Hearth sessions with small groups of malnourished children and their caregivers, preparing and feeding the Hearth menus and discussing the Positive Deviant practices
Follow Up
Volunteers visit Hearth graduates in their homes to assess progress and re-emphasise Positive Deviant practices
Children who do not recover during Hearth are re-enrolled or referred to the health facility if there is an underlying illness
Conduct regular growth monitoring to track children's progress and identify new cases of malnutrition
Key Steps of PD/Hearth Approach
Decide whether the PD/Hearth approach is feasible in the target community.
Begin mobilising the community (create Village Health/Hearth Committee or working group within the community); select and train staff. Community mobilisation can take several months. Selecting and training staff + PDI can take approximately 2-3 weeks (2 days of training, 2 days for PDI, 2 days for analysis and feedback to the community)
Prepare for PDI
Conduct PDI
Design Hearth sessions (2 days)
Conduct Hearth sessions (2 weeks)
Support new behaviours through follow-up visits (2 weeks immediately after session and continuing)
Repeat Hearth as needed
Monitoring

Monitor progress of targeted malnourished children enrolled in Hearth (After 12 days of Hearth session, after rotation)
Monitor entire cohort of children in the target group over time, with the community (GMP activity every month over the project period)
Measure immediate impact and long term effect of program (From baseline to 12, 18 and 24 months AFTER end of Hearth sessions)

Expand the PD/Hearth programme to additional communities integrating lessons learned from pilot communities
Who is involved in PD/Hearth?
PD/Hearth targets children 6-36 months of age (in some areas 6-59 months of age) and their families, but the whole community is involved. Community leaders, volunteers and health staff participate in the Positive Deviance Inquiry to discover existing local practices which prevent malnutrition. Volunteers share this local wisdom with families of malnourished children through a peer learning process during the Hearth sessions. The community takes ownership of the program and everybody celebrates as the children at the Hearth begin to gain weight and enjoy better health.
Why does PD/Hearth work?
When the Essential Elements are in place, PD/Hearth is an effective approach to sustainably reducing child malnutrition. There a few key secrets to this success:
Discovering local solutions – The Positive Deviance approach helps community members discover that they already have the solutions to malnutrition and don't need outside resources.
Participatory adult learning – The preparation stage involves the community from the start, which encourages community ownership of the program. Moreover, Hearth sessions give caregivers the opportunity to actively learn and practice new child feeding and care behaviours in a supportive environment.
Seeing is believing – During the 12 days of Hearth, previously malnourished children begin to gain weight, develop a better appetite and improve in overall health and energy level. This transformation is the best evidence that the Positive Deviance practices work, and motivates families to continue the PD practices at home.
For best results, PD/Hearth activities should involve the Ministry of Health and the community from the preparation stage, and be linked with other sectors, including community health services; water, sanitation and hygiene; food security/diet diversity; agriculture; economic development, etc.
How can I get help with PD/Hearth?
Download training materials and detailed implementation guidelines, and follow up with your Regional Office or NCOE to arrange training for your National Office or programme.
WV PD/Hearth Project Model Document
CORE Group Field Guide to Positive Deviance Hearth
CORE Group Positive Deviance Hearth Essential Elements
World Vision's PD Hearth Volunteer Training Manual
Master Trainer Curriculum: The Nutrition Centre of Expertise has developed a curriculum and certification process for training staff with PD/Hearth experience to become Master Trainers. Certified Master Trainers lead Training-of-Facilitators (ToF) for National Offices who wish to begin PD/Hearth implementation. If you are interested in becoming a Master Trainer or would like to request a ToF please contact your Regional Office Nutrition Coordinator or nutrition@wvi.org