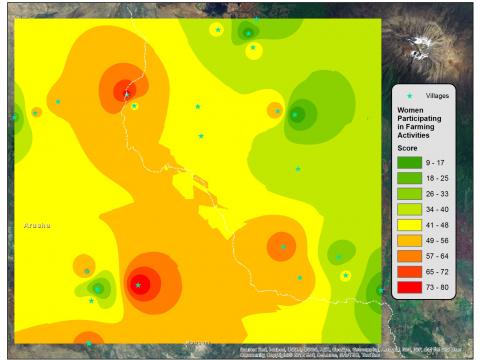 mHealth: GIS
Poverty and health are complex issues that are influenced by many indicators working together.  The GIS vulnerability modeling is a tool to help visualize the complexities of these social determinants of health. By incorporating GIS technology in the baseline survey, a visual picture is created of the level of vulnerability across the region of the project area.  Further, this allows for incorporation of secondary data with a geo-spatial component, such as environmental data, to complement the model. 
By performing spatial statistical analysis on the data, the specific region within a project area with the highest vulnerability can be determined and targeted with an intervention for that area focusing on the specific indicators that makes up that vulnerability.  These insights into the project area allow the project manager to gain a better understanding of the regions and to make informed decisions regarding their project. 
Similarly, at the end of the project, a program evaluation is conducted incorporating GIS technology.  This evaluation clearly shows the level of impact across the project area.  Specifically, the effect of the intervention can be visualized over time for specific villages in the region.
Background
Geographic Information System (GIS) technology is increasingly important to many World Vision activities for supporting child well-being and other international humanitarian aid programs.   Increasingly, spatial analysis is needed to develop a comprehensive awareness of community resilience, ongoing vulnerabilities, and measurements of the effectiveness of community level interventions.  The collection of spatial performance metrics helps provide evidence to inform decision making, reduce redundancy, and ensure that the right community interventions are provided where they are truly needed. GIS provides World Vision with a toolbox to collect mobile data, visualize data, manage data, analyze data, and communicate data to decision makers and donors.
World Vision Canada provided leadership in 2010 by signing the Enterprise License Agreement (ELA) with ESRI, the leading provider of GIS software and services in the world.  This has given access to anyone in the World Vision partnership to ESRI licenses.  Additionally, in 2012 World Vision Canada signed a Master Services Agreement (MSA) with ESRI, which allows the Partnership to access ESRI professional services for building capacity in data management and analysis at non-profit rates.
Stakeholder engagement
Key stakeholders at the international and national level collaborating on this mHealth initiative include:

targets
Geographic Scope:  Senegal, Mali, Ghana, Sierra Leone, Tanzania, Peru
Contact
Project Management
Josh Folkema 
Business Development Manager 
World Vision Canada 
905-565-6200 x3193 
Josh_Folkema@worldvision.ca
Technical Lead
David Bondy 
GIS Officer 
World Vision Canada 
905-565-6200 x3070
David_Bondy@worldvision.ca
GO TO MORE WORLD VISION MHEALTH PROGRAMME INFORMATION PAGES: