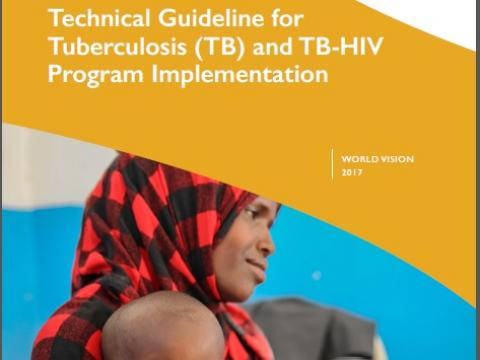 Technical Guideline for Tuberculosis and TB-HIV Program Implementation
Thursday, July 13, 2017
As a child-focused organisation, World Vision recognises the threat of TB to the well-being of children and their families and its negative impact in reversing successes gained through development programmes. World Vision's Child Well-being targets emphasise an increase in children protected from infection and diseases.
Considering the high prevalence of TB and its dire consequences in the lives of children and families, World Vision has engaged in TB prevention, care and treatment programmes for the last 20 years. As of the end of 2016, World Vision is implementing TB programmes in nine countries: Kenya, Swaziland, Senegal, Bosnia–Herzegovina, Somalia, Thailand, Papua New Guinea, Myanmar and India. (See WHO list of 30 high TB burden countries in the annex.) With funding mainly from the Global Fund and USAID, World Vision national offices (NOs) in collaboration with National TB Programmes' work in community mobilisation, health education and behavioural interventions, implement active TB case-finding interventions, facilitate testing and referrals for treatment, strengthen community and health systems, conduct DOTS and treatment adherence follow-up, and strengthen local- and national-level advocacy efforts.
This guidance documents highlights our best knowledge of how World Vision Programmes can contribute to end TB.
Read more about World Vision TB Programming: http://www.wvi.org/health/TB
Read more about World Vision HIV Programming: http://wvi.org/health/hiv-and-aids-programmes