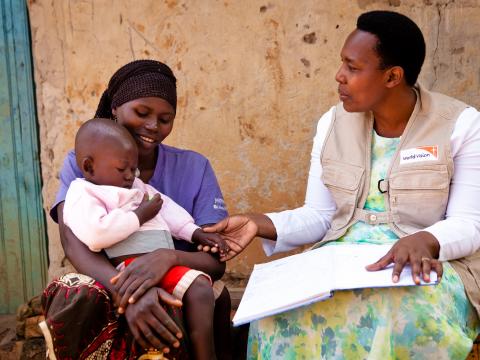 Timed and Targeted Counseling (ttC)
What is ttC?
Timed and targeted counseling (ttC) referes to a Community Health Worker/Volunteer approach to extending primary health care counseling to the household level, and is one of the core approaches of World Vision's Global Health and Nutrition Strategy known as 7-11.  This is built around evidence-based, cost effective key interventions for pregnant women and children under two that, when taken together, can significantly reduce maternal and infant/young child morbidity and mortality.   
It is Timed: During a woman's pregnancy and the first 1000 days of her child's life, messages on maternal, newborn and child health are delivered to the woman and her family. The messages are carefully timed so that she has sufficient time to act on the given messages, but not so early that the messages seem irrelevant or are forgotten. 

 

 It is Targeted: Not only is ttC is targeted in time (when each message is delivered), but it is also targeted in space. All messages are delivered by visiting a woman's home so that key decision makers in the family, such as male partners, mother-in-laws and grandmothers, also receive the information. Additionally, the information itself is targeted and individualized, with messages focusing on the circumstances of each specific family.
 It is Counselling: Often women face cultural, financial or geographic barriers to adopting healthy practices. In ttC, a CHW or volunteer engages in discussion with the family to identify barriers to preferred health practices. They then work with the family to negotiate a feasible shift in their behaviors towards these preferred practices based on their individual circumstances.

 

 

 

Engaging husbands and fathers: Although many health approaches target women in the home or in groups, social and cultural factors are often the most critical barriers to maternal and child health. Lack of negotiating power and influence in decision-making and finances, means that many women struggle to adopt practices, even when they have correct information. Men as partners, and fathers, are given special emphasis throughout ttC, with positive and negative male roles explored through stories. Men are counselled to promote their positive influence on maternal, newborn and  child health, nutrition and development, leading to better outcomes for the mother and child. 
Integrating newborn care: ttC offers an ideal platform for newborn care, as the home visitor has access in the first week of life, especially in the event of a home birth. They can support the mother to apply chlorhexidine to the cord stump, assess and refer and provide supportive care for underweight babies,  breastfeeding, ensure hygiene and warmth and assess danger signs. 
How does ttC work?
When a volunteer arrives at a mother's home, he or she begins by reading the family an illustrated "problem story," followed by guiding questions and then an illustrated "positive story" with guiding questions. The problem story allows for the family to gain an awareness and outsider perspective and begin to understand the causes of health problems, such as a lack of food or a failure to wash hands. This also allows them to recognize the potential value of the solutions offered in the positive story.
After reading the stories, the family and volunteer engage in a dialogue centered on which positive behaviors they already engage in, and which are new to them. They then look at what new behaviors they might be able to put into practice, taking into consideration the barriers they face. This is recorded in a Household Handbook so that the volunteer can follow-up with the family and track their behavior change in subsequent visits. 
 Where are we working?
Tools
Publications
Articles
Blog
Contact
For more information on TTC, please contact World Vision expert:
Community Health Worker Programming Advisor
Polly.Walker@worldvision.org.uk