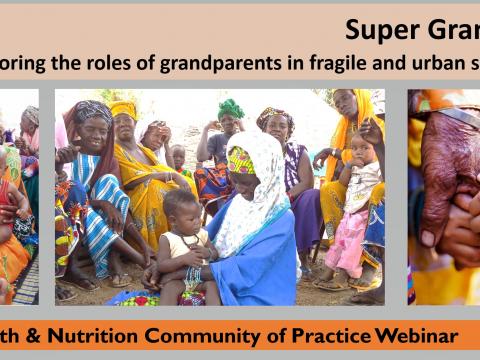 Webinar Super Grannies – Exploring the roles of grandmothers in fragile and urban contexts
A Health & Nutrition CoP Webinar: Super Grannies – Exploring the roles of grandmothers in fragile and urban contexts
December 2019
In this webinar, we learnt about the findings from a study recently conducted by WV Ireland in Mauritania, and a 2-year implementation in Sierra leone exploring the influence grandmothers have in fragile and urban contexts. Dr Judi Aubel from the Grandmother Project - Change through Culture shared on their innovative approach for exploring families, culture and influence, on a range of issues, especially in collectivist societies, and empowering grandmothers to catalyze change in socio-cultural norms. Judi and Bridget Aidam presented the results of an exploratory study in Mauritania, and the outcomes of a 2-year implementation of the Grandmother Project in Sierra Leone, that demonstrate very high levels of impact on health and nutrition behaviours, especially amongst adolescent mothers. 

The urban context presents a range of new challenges for World Vision's health and nutrition programmes given the complex vulnerability of impoverished urban communities, where the exploitation of children for work is seen as a common way to keep families off the breadline, Grana Selvi, WV Cambodia Technical lead for Health and Nutrition outlined their plans for working with grandmothers in urban slums in Cambodia. 

Our key learnings: 
Grandmothers are key influencers of health and nutrition behaviours in collectivist societies and have a greater influence over mothers choices than men or other family members
The Grandmother project in Sierra Leone (Mamanieva) demonstrated high impact on nutrition behaviours, especially amongst adolescent mothers, and represents a potentially more cost-effective approach than working with mothers on an individual basis. 
In urban settings grandmothers are often primary caregivers, even from very early infancy, as mothers return to work sometimes as little a few weeks after giving birth. Often these grandmothers are ill-equipped with the knowledge and skills to promote good nutrition and child development.
Grandmothers can be engaged on a range of cultural issues beyond health and nutrition such as child protection, ECD, FGM and child marriage and our work in fragile and urban settings needs to make more intentional efforts to build capacity and knowledge amongst these important community influencers. 
REPORTS OF RESEARCH
Grandmothers as change agents: Developing a culturally appropriate program to improve maternal and child nutrition in sierra leone Carolyn A MacDonald, Judi Aubel, Bridget A Aidam, Amy Webb GirardCurrent Developments in Nutrition, nzz141, https://doi.org/10.1093/cdn/nzz141