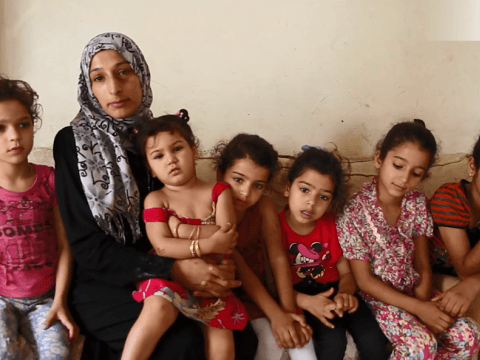 Be like Eman: Learn to provide a healthier diet for your family
Monday, October 31, 2016
Eman Taqatqa's eyes well up with tears as she describes the early days of her marriage and her life in the remote village of Im Salamona, south of Bethlehem. Married at 17, the now 29-year-old woman is the mother of eight children, including seven girls who are enrolled in World Vision's child sponsorship program.
"My husband is a construction worker in a quarry. However, he is rarely able to work regularly as he suffers from several health problems including diabetes and suffers continuous pain in his joints," Eman said.
"I used to live with my husband's parents, along with my three brothers in law, their wives and all of the family's children. In total, we were 24 people living under one roof. When I got pregnant again, we moved to a house that lacks the basic necessities and accommodations to provide a decent life"
Eman's tears flowed freely as she described "the worst experience in my life." While living in their new house, she witnessed her newborn daughter, Makarem, suffering from a severe respiratory infection due to the humid environment in the room where the family lived. Eman knew something had to change, but she had no idea how make things better.
Happily for her and her family, World Vision's community health worker in the area was alerted to the situation and quickly took action. With the help of World Vision's Area Development Program (ADP), renovations were made to the home to repair the bathroom and kitchen areas, and walls and ceilings were painted to remove mold and mildew. Food supplies were also provided, along with a baby crib, bedsheets, hygiene kits and firewood to heat the home.
But the work didn't stop there. The community health worker urged Eman to take part in World Vision's Maternal and Child Health and Nutrition (MCHN) awareness sessions, where she and other women learned of the importance of exclusive breastfeeding. She was surprised to learn that breast milk doesn't only contain vitamins and nutrients, but is also packed with disease-fighting substances that build the immune system and protect children from illnesses. Eman says she breastfed her daughter Makarem for two years, and saw a big improvement in her condition.
"I monitored Makarem's growth and witnessed her development closely as she recovered quickly from her infection with World Vision's follow up," she said. "I can clearly see the difference between Makarem's immune system and her six sisters, who often get sick and need antibiotic to fight their diseases."
According to Manal Najajrah, community programs officer with World Vision's Jerusalem – West Bank - Gaza (WVJWG) office, situations like Eman's are far from unique in rural areas of the West Bank., where cultural norms and practices can have a negative impact on children's health and nutrition.
"Women in these villages also suffer from poor quality of health services and lack of resources, which limits their access to essential health services," she said. "In order to respond to these issues, WVJWG has built the capacity for women in those villages to become community health workers to help mothers in these communities to take part in positive health practices."
Thanks to these efforts, World Vision has seen a 46 per cent increase in exclusive breastfeeding amongst women in its targeted areas in the last year due to the MCHN interventions. As well, statistics also show that more than 50 per cent of children in World Vision's Bethlehem ADP are now receiving the minimum dietary diversity baseline in the foods they eat, compared to just over 28 per cent in 2009.
Eman is grateful for the increased awareness and knowledge she received through World Vision interventions. She adds: "I advise mothers to follow the messages and guidance from the community health workers to ensure better health for their babies.
"Rukaya, our latest family addition, is almost a year now and I am proud to breastfeed her until this moment. I am very happy now knowing that I can contribute to a healthier diet to my baby." Eman concluded happily.