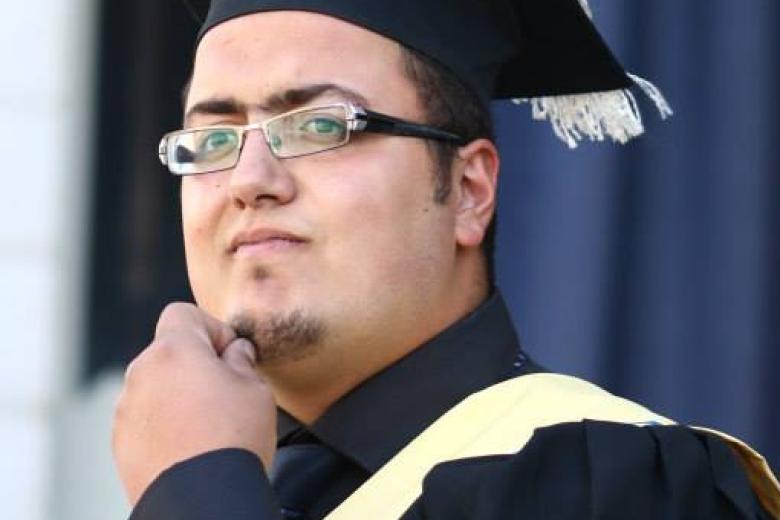 Bright future awaiting fresh graduates in the Job Placement Program
Thursday, July 16, 2015
"Give a man a fish and he will eat for a day. Teach a man to fish and he will eat for the rest of his life". Chinese proverb
Jameel Sarras, a 23 year old fresh graduate who earned a BA in Biology, was given the chance to make his curriculum vitae more attractive by enlisting in it his first job as part of the "Job Placement Program" that World Vision is implementing in partnership with Bethlehem University. Jameel is an outstanding student and one of the most qualified candidates; he was nominated by the Faculty of Science to work as a private tutor for 24 eleventh graders from 12 secondary schools located in Bethlehem district.
The "Job Placement Program" is managed jointly with Bethlehem University and designed to contribute to decreasing the rate of unemployment) within the Christian communities in Palestine. It also aims at creating a trust relationship between the community members; mainly school students, parents, and educational institutions, and fresh graduates -just like Jameel- who can use their acquired skills and gain some experience while  benefiting young students and the community in general.
 Jameel recalls his journey after graduation
 "I started working with my family in our land, which is located on the main road to Hebron city, right after I graduated. Our land is threatened with confiscation by the Israeli occupation in an attempt to pave the way for the illegal settlement of Gvaot, part of the Gush Etzion settlement block", Jameel explained. "I had no other choice but to work in our land as a way of resistance. But I also wanted to work in my field and use my degree which I earned after a lot of hard work."
 "My father received a lot of tempting offers to sell his land to the Israelis but he refused strongly. They even tried to approach him through an Israeli Real Estate agent who offered him a blank check, but he still refused" Jameel continued. "Working as a tutor was a new experience for me that made me revise my priorities in life and consider "teaching" as a profession. "I was interested in professional development which reflected positively on me; it enhanced my skills towards dealing with students and refreshed my enthusiasm to further develop the basic competences I acquired in college."
"This opportunity developed my professional skills and exposed me to new techniques, innovative thoughts and allowed me to earn my living", Jameel added.
 "Participating in this program made me more responsible and accountable towards myself and my students, as teaching requires a wide range of knowledge to answer the variety of questions that are raised by the students, and I do need to be very careful with my answer to be totally correct."
The idea behind the program started as there is an alarming decline in the number of students enrolling in the Faculty of Science every year. "We believe in the importance of maintaining a close cooperation with both: our feeder schools and our science graduates, by encouraging them to upgrade their thoughts and teaching methods and benefit from the services of their local university. Fresh graduates can deliver information to school students in a fun and stimulating way that would inspire them to immerse in a scientific field", says Dr. Haifa Kunkar, Dean of the Faculty of Science and head of the Mathematics department at Bethlehem University.
"Creating this type of job for Jameel exposed the school students to Biology, Chemistry, Mathematics, Physics and Computer Information Systems for almost five months. The curriculum was far more interesting and exciting than rigid memorization of texts; it was full of practical laboratory experiments and fun methods of delivering the information", she continued.
"I was surprised to receive messages from the students asking for more sessions and demanding regular meetings to build on what they have learned even after the "Young Scientists Program" was finished. A closed group on Facebook was created as a way of maintaining the relationship between the group and to continue sharing interesting learnings with each other", Jameel added.
The Palestinian people in general suffer from emigration due to the harsh political and economic conditions caused by the occupation. These two reasons are the major causes behind the diminishing numbers of Christians in this Holy Land, which has reached a critical point. The deteriorating political and economic situations made it very difficult for fresh graduates to find job opportunities in the local market, which is threatening the Christians' existence in particular.
The significant goal of the Job Placement program is to create new opportunities for Palestinian Christians, especially fresh graduates, and help them generate a little income that would help them in tough circumstances.
According to the Palestinian Central Bureau of Statistics, around 30 thousand students graduate annually from the Palestinian higher education institutions, with a constant rise in the unemployment rate among graduates aged 20-29 years old compared to the previous years. For examples according to the latest statistics in 2012; the unemployment rate rose to 50.6% among graduates aged 20-29 years with a bachelor's degree or an intermediate diploma in Palestine (40.9% in the West Bank and 63.2% in the Gaza Strip). As it was 46.5% in 2011.
 World Vision's Palestinian Church Engagement Initiative (PCEI) works with the Palestinian Christian community to build its resilience and contribute to strengthening relationships, networks and understandings among international and local churches and communities in support of improved child well-being within the Palestinian Territory.
 "Christians are an essential ingredient in Palestine and maintaining their presence can be achieved by helping the Christian community stay firm in their faith and resilience", says Charlie Abou Saada said, the Faith in Development Advisor at World Vision JWG.
Jameel's story is only one of many stories of young people who are committed to pursuing their dreams with perseverance and courage in the face of occupation and injustice. World Vision is working hand in hand with the Christian community by nurturing their spiritual growth and improving the health of children and families and equipping them with the skills, confidence, and resources to understand and actively live out messages of peace through ongoing and sustainable community development programmes to build a better future.