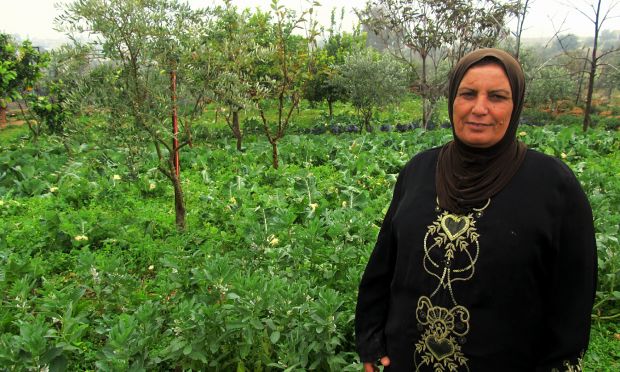 It was a cold and rainy day in the hilly West Ramallah town. What would normally serve as a bleak setting on this winter day was one where a story of hope resides. On this International Women's Day, one mother of six shares her story of difficulties, challenges and finally, of hope.
With an unemployment rate of 20.4% in the West Bank, the governorate of Ramallah is plagued by unrest, occupation and land confiscation resulting from Israeli settler expansion and the separation barrier. The ever-shrinking Ramallah governorate is most definitely an area in need of hope. Fifteen kilometres (about nine miles) from Ramallah, the small town of Kharbatha Bani Harith is home to over 2,800 people. Of these, one family of eight had its life changed with the beginning of a small project.
THE BEGINNING OF HOPE
In 2011, World Vision Jerusalem-West Bank-Gaza began a Home Gardens Project, sponsored by World Vision USA. This project gave 52 women the opportunity of self-sufficiency by providing them with gardens for their homes. Women with families in need were trained on organic farming and empowered to help change their own futures and those of their families.
One of these families was that of 49-year-old mother of six Manzoomah. Manzoomah has lived in the town of Kharbatha all her life and was married young. Her family relies on external aid and a small income from her only adult son, who is a government employee with the police. Her husband is a construction worker, a worker who has been unemployed for many years as he is no longer able to travel to the more lucrative labour market in Israel, due to the lack of a work permit to travel into Israel after the building of the separation barrier.
As of September 2012, 85.1% of Palestinians now work in the occupied Palestinian territory (oPt) and only 14.9% in Israel. Prior to the second intifada, in 2000, 146,000 Palestinians, of which 116,000 were from the West Bank, worked in Israel, but since September 2012, this number has steadily decreased to 87,500 - only 39,600 of whom had a permit, 25,900 worked without a permit and 22,000 held an Israeli identity card or foreign passport. Work permits granted to Palestinians to work in Israel are generally for three months at a time but with no guarantee of being able to reach their workplaces due to army-imposed curfews and/or ad hoc closures of crossings.
Manzoomah and her family live in a small unpainted home on the top of the hill. Eight people share three rooms, and there is no road leading to their home, fifteen minutes walking distance from the town centre. With six children, Manzoomah says life is not always easy. It was a struggle to cover her family's basic needs. But now, things are getting better.
THE POWER OF A WOMAN
Despite the high secondary school enrolment of women, women's labour force participation remains low in the oPt, with women making up a mere 18.2% of the labour force in the West Bank - one of the lowest in the world. But Manzoomah is trying to change this.
Manzoomah proudly shows off her 500 m² (approximately 5380 ft²) garden, where she is growing anything from sunflowers, spinach and radishes to rocket, lettuce, parsley and cauliflower. Standing in the garden, you can find some of the town's olive and almond trees.
"My children help me in the garden. The whole family helps," explains Manzoomah proudly. "My children were all in need of help and my husband is unemployed," she recalls. "But the garden has changed everything."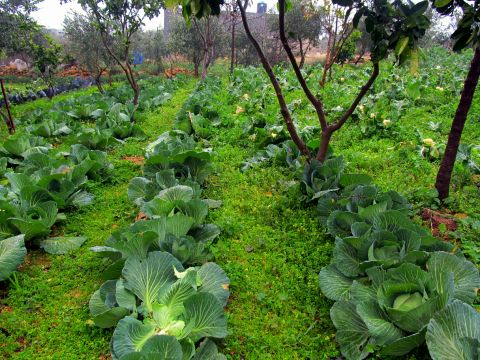 CHANGE ON THE HORIZON
What began as a small accomplishment has continued to grow for Manzoomah and her family. Manzoomah now contributes 500 NIS (around US $135) to her family's wages each month. She is not only able to provide her family with vegetables but is now sharing the proceeds of her garden to her nearby neighbours.
Jamal Al Nimer, World Vision's West Ramallah Community Development Officer, says that the Home Gardens Project is helping to meet the direct needs of vulnerable and needy families. "It has allowed these families to have healthy and nutritious vegetables for their children," he explains. "As the project has grown and developed, this has not only helped the families involved but has also helped connect and build the community itself."
World Vision has helped Manzoomah and her family through the home garden project and sponsored her 9-year-old son Aisar who has received hygiene kits and other gifts through the Sponsorship Programme.
"I want to thank World Vision for giving me this garden that helped me provide my children with vegetables, as well as money for my family," says Manzoomah. "I want to develop my garden further and take care of it even better. For me, this is just the beginning."
World Vision partners with eight communities and 44 community-based organizations and schools in West Ramallah in the West Bank, focusing on education, agriculture, health and disaster preparedness.
World Vision Jerusalem-West Bank-Gaza seeks to impact the lives of over 200,000 children through its programmes and directly benefits the lives of over 168,000 people in 117 communities throughout the occupied Palestinian territory. With Area Development Programmes in North and South Gaza, World Vision works with 44 community based organizations and schools to empower families and children to become agents of change for a better future. World Vision seeks to ensure that all families and children are cared for, protected and participating.
Sources:
1) PCBS, Labor Force Survey Report, July-Sep. 2012
2) ILO, The Situation of Workers of the Occupied Arab Territories, 2012