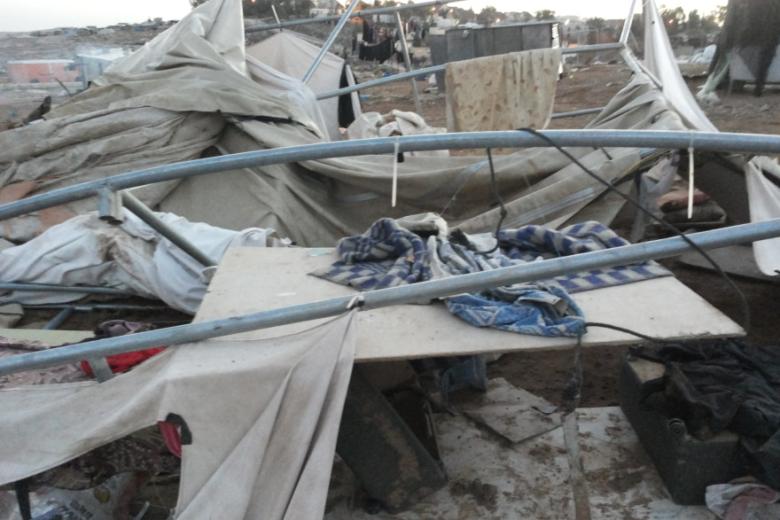 Hebron communities suffer the consequences of snowstorm Alexa
Thursday, December 19, 2013
Twenty four families make of a small Bedouin community call Umm Al-Kheir, located in the South Hebron Hills, home. The recent snowstorm make the already precarious living conditions of these families (who live in tents in Area C, a designated firing zone) even more difficult.
 "We spent four days without electricity since the brutal winter storm destroyed the solar panels we had," says Sheikh Al-Hathaleen, head of the largest family. "We faced heavy snow and exceptionally cold temperatures, that plunged into minus. [We] were not prepared at all for such an incident," he says.
 Three of the 24 tents were completely destroyed and many others were flooded with rainwater.
 As a result of the freezing temperatures and exposure to the elements more than 35 children fell ill.
 Hanadi, a 14-year-old girl from the community recalls her experience. "We are 13 living in one tent. During the night, the pillars of the tent broke.  We felt so afraid for our safety that we were forced to move to our neighbour's tent."
World Vision JWG responded with emergency relief supplies to 224 families in desperate need living in South Hebron Hills, where hundreds of food kits and blankets were distributed.
 In other area called Bani Ne'im, also located in East Hebron and in Area C, 52 families and a total of 58 children (10 of whom are in World Vision's sponsorship programme) were affected.
 Mrs. Manasara is a mother of two young children (a 3-year-old girl and 1-year-old boy) and one of the families whose home suffered significant damage as a result of the storm. The roof sheets were blown off their home. So, in addition to rising floodwaters, which reached 50 cm, rain was also pouring in from the ceiling. 
 Today, their ceiling is cracked and their living room remains filled with puddles.  They can't afford heat for today let alone pay for the repairs that are needed.
 "My husband is unemployed and we can't afford wood to burn for warmth," she says. "Our house is not safe and is extremely cold to live in," she said, concerned.
 As soon as the weather permitted, World Vision Jerusalem West bank and Gaza, along with its partners) hastened to help those affected in the community. While the Palestinian Red Crescent is helping families restore their homes, World Vision distributed emergency relief supplies with blankets and food provisions to 52 families in the area.