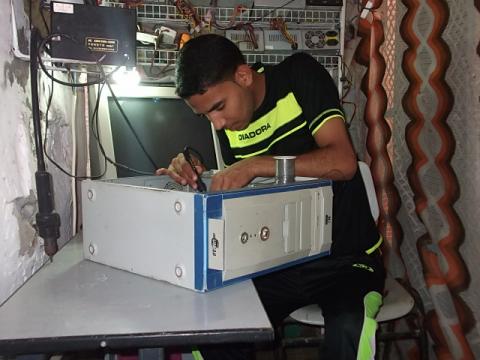 Mahmoud's business provides more than income; it provides inspiration, encouragement
Thursday, August 8, 2013
Dubbed "Sweden Village" by local residents after a group of Swedish troops were stationed there in 1965, this Palestinian village represents one of Gaza's most vulnerable communities. Most of the 2,000 residents, largely Palestinian refugees who trace their roots to villages in present-day Israel, earn their living from Gaza's now deteriorating fishing industry. Despite their close proximity to the beach, fishermen from Sweden Village and across the rest of the Gaza Strip can barely access fishing waters off the coastline, as they are often stopped by Israeli naval forces, just three nautical miles offshore, making it difficult to catch enough fish to make a decent living.
To make matters worse, the village's infrastructure is weak, with no school or health center, and the villagers are trapped by an Israeli-imposed air, sea, and land blockade. Their only exit is the unreliable Egyptian-controlled Rafah crossing and the Erez checkpoint for which they must obtain an Israeli permit to cross.

Mahmoud, 22, grew up in Sweden Village. Although these are the conditions under which he has lived his whole life, he isn't ready to accept them for the rest of it. He is working to change his situation and by doing so found himself at the center of changing his community as well, through mobilizing his peers.
Unemployment rates in the Gaza Strip are at over 40 per cent, making it even more difficult for youth, like Mahmoud, to find steady work. Frustrated by the lack employment and difficult of access to technology, Mahmoud had an idea—an idea that would solve both his income and access to technology troubles.

"During my study at university, I always needed computer applications and internet and my village didn't have it," says Mahmoud. "I had to go to the center of the city, a one-hour drive, just to reach the nearest internet and computer shop." He continues, recalling the mounting expenses of paying for transportation as well as $1.50 an hour to use a computer.

Last year, Mahmoud came up with a business idea. He wanted to start a computer shop in Sweden Village. Mahmoud, who was already active in one of the community based orgnizations World Vision partners with, pitched the idea to World Vision's business team in the North Gaza area development programme and they were able to provide him with a small grant to kick start his idea.

Today, his shop is up and running. But, Mahmoud's computer shop does more than provide internet and fix computer parts for the village. Not only has this shop become a source of income for Mahmoud and his younger brother, the shop also works to serve the needs of Mahmoud's village in different ways. It's become a center for local youth to come together to discuss ideas, study, and inspire each other.

"In my village, there are about 40 university students and 150 secondary school students who all need to do research and learn how to use computers," says Mahmoud. My shop gave them an opportunity to explore a new world."

After Mahmoud's success, his friends were also inspired to start their own business ventures, some opening barber shops, others grocery stores and still other maintenance facilities.

Perhaps even more important than a place to do research and study, Mahmoud's computer shop has become a force of unity in the village, creating a venue for people to come together and identify solutions for local problems. "I could never imagine that it would be an inspiring project for a lot of youth in my village," expressed Mahmoud. "We all worked together to install a sewage pipeline that transfers the sewage out of the village, instead of collecting the sewage in a nearby area which affected our health and causes a lot of disease." Most recently Mahmoud and other community members came together to build a playground for children to play football. They also collected small funds from other village residents and rented a machine to level the ground and build the village's first and only playground.

Mahmoud is well respected and serves as an inspiration to others in his community. Karim, a 13-year-old boy from Sweden Village says, "he opened my eyes to a new world, He allowed me to see new things, and I will be a good person who works hard like him."

Unlike some his age, Mahmoud is respected by youth and adults alike."Mahmoud is one of the best persons in the village, his friends respect him and his family and I are very proud of him," said Ali, one village leader.
Like many Palestinians in Gaza, Mahmoud has a hard time traveling beyond his community's boundaries, but one day he hopes to travel to see all the places he sees on the internet.