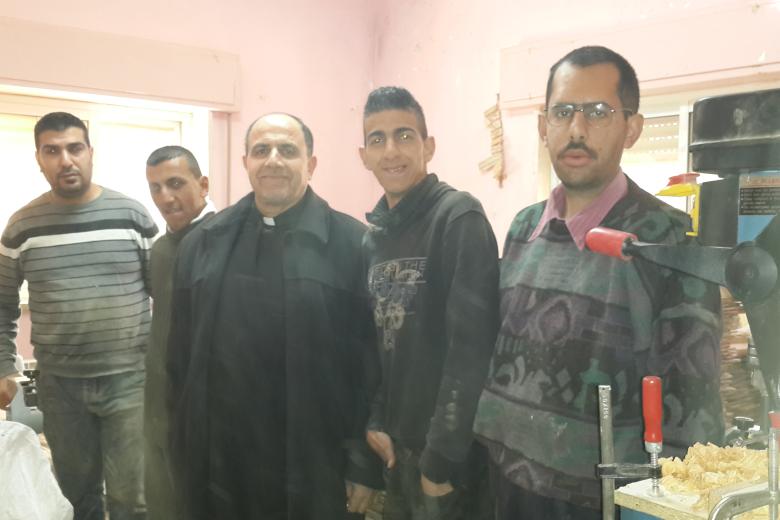 A New Profession, a Brighter Future
Tuesday, September 16, 2014
Located in the Shepherd's Field, serving around fifty boys and girls from all ages, the JOY SCHOOL for slow learners provides learning opportunities both in theory and practice for youth with special needs, creating channels of hope for a brighter future for them and their families. 
Through World Vision Jerusalem-West Bank-Gaza's (WVJWG) Palestinian Church Engagement Initiative (PCEI),   Five Christian youth with special needs became professionals in olive wood carving, undergoing a practical learning process throughout the past year, using the machinery and tools we provided.
School Principal, Father Mamdooh Abu Saada Says: "Through this project, we are teaching those youth a profession that provides income for them and their families. As individuals with special needs, they do not have lots of opportunities in the society, and in many cases are not employed and left jobless. Hosting them in the school, teaching them a profession, and selling their product locally and abroad generate income for them and their families".
 He Added: "In the school, wood carving has been taught since three years, but this year teaching became enhanced and more professional through the machinery and tools World Vision provided". 
Peter Jaraisy, an Eighteen year old boy is one of the project beneficiaries. He joined the school when he was six, due to hearing and speaking impairments. Using sign language, interpreted by Father Mamdooh, Peter says:" I am happy in this school, I learned a profession I am earning money, helping my mother and also taking some money for me". He smiled:" I want to stay in the school! ".
Father Mamdooh Added: "Peter is a fast learner, and has good capacity. Wood carving was a hobby for him, and now he is a professional. He has good imagination and has a drawing capacity through which he helps in designing some of the wood products…he is an artist". He notes:" due to his communication difficulties, he had no chances of employment. He is in the school factory, and is earning money for his work and is helping his mother in her difficult life".
Through this partnership with" the Joy School for Slow Learners", WVJWG provided learning and employment opportunities for a group of marginalized youth, created hope for them and their families, and enhanced the quantity and quality of olive wood carving.
The Palestinian Church Engagement Initiative (PCEI) is a three-year initiative that works with the Palestinian Churches and the Christian community; focusing on an integration of church relations and advocacy, through a solid child-focused programming designed to capitalize on the unique position WV holds in relation to the local Palestinian Christians and the international Church. PCEI also contributes to strengthening relationships, networks and understandings among International and local churches and communities in support of improved child well-being (CWB) within Palestinian Territories, as well as contribute to empowering the Christian community to support CWB issues.