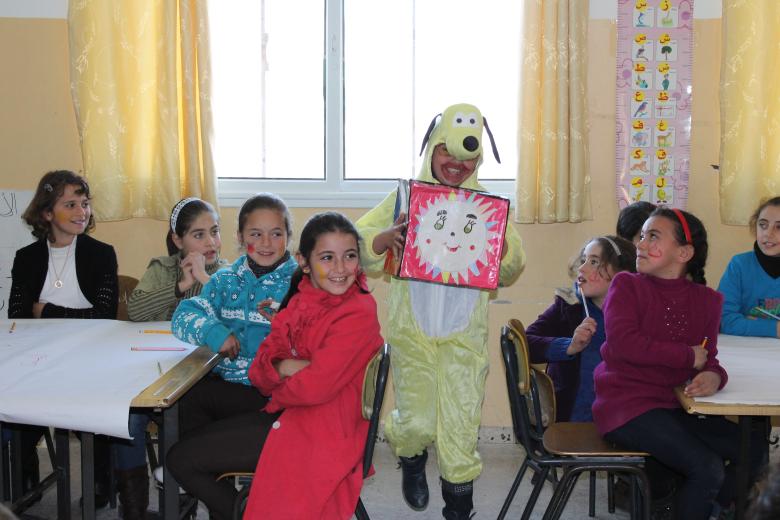 Overcoming disability through remedial education
Monday, September 1, 2014
Driving all the way to Siris Girls Basic School is such a joyful experience to all your senses as the school is located at the top-hill overlooking a spacious green valley where the scented fragrance aroma spreads in the fields. World Vision team was impressed when they saw three disabled children feeling cozy and comfortable enjoying their classes at the remedial program hosted there.
Living with disability is very difficult especially if you are a young child who recognizes the difference between yourself and your peers. Unfortunately, the world is primarily designed for the able-bodied, leaving vulnerable children neglected and constantly fighting for a place to fit in; they fight for acceptance and understanding in their communities which lack the needed infrastructure and programs to help, mitigate and integrate them in their societies.
Three students with disabilities from Siris Boys School were targeted in World Vision's remedial education program for the first time: Yazan, Hussam and Qais. A remarkable change has been witnessed in their behavior through the testimonies of their close contacts. 
With a big smile and a firm hand shake, Yazan, the 4th grader, started talking:" I love the remedial education program and I got motivation cards from my teacher".  Yazan, one of South Jenin ADP sponsored children, suffers from stunting as he was subject to an open heart operation when he was only 6 months old; suffers from excessive brain electrical discharge and from several health complications that affected his body and brain.
Mrs. Aisha Darwish, Siris Girls School Principal, said: "When Yazan first came to the remedial classes, he was very violent; he kept destroying school objects. One day, after he destroyed one of the program's educational tools, I called his mother to come and take him home. I asked her not to bring him back- infront of him-, but I was sad when I noticed the look in his eyes. The next day, his mother came early in the morning asking me to forgive Yazan as he was very sad to be dismissed from the classes he enjoys most. He promised us not to do it again and to participate effectively". "Yazan, surprisingly, after this incident became a very disciplined person and volunteered to help the school janitor on her duties at the end of each day" completed Mrs. Aisha.
Sabah Hamid Qteit, 44 years old mother of Yazan, said: "Yazan was always sick and it was very hard for us to send him to school regularly as he spent a lot of time in hospitals. Sabah stopped talking for a moment and in a gloomy voice, she added: "Unfortunately, Yazan doesn't know the letters and numbers and he is very despair to be so". "As an illiterate adult, I was very worried about his future.  He started having hope again after he joined the remedial education classes, and figured out that there are other students in this program with similar learning difficulties. He asked me to write down my name, his father's name and his brothers' and sisters'. I hope that the remedial education will last long".
Mr. Qassim Qalalwa, Yazan's Arabic teacher at school since the second grade, noticed the difference and said: "Yazan is different now, in the past he didn't like school and he was always absent, which affected his educational performance. Since he joined the remedial education, he started to attend school constantly as if some kind of magic transferred his behavior and motivation. His academic performance didn't change a lot, but this is a huge step forward towards improving his performance".
There is a global correlation between disability and poverty, produced by a variety of factors. Disability and poverty may form a vicious circle, in which physical barriers make it more difficult to get income, which in turn diminishes access to health care and other necessities for a healthy life[1].  The World report on disability[2] indicates that half of people with disability cannot afford health care, compared to a third of non-disabled people. Children with disability are the worse off cases when talking about vulnerability in South Jenin ADP.
Qais, comes from a very poor family that has multiple Autistic and mental cases. His older brother Mo'men- a 13 year sponsored child- and Amir -5 year old brother- suffer different degrees of Autism while his older sister Dareen- a 19 year old- suffers from cerebral palsy. The mother as well has a mental condition. None of the family's children visited a doctor or had been diagnosed or were subject to any kind of tests and treatment. Qais has learning difficulties with a tendency to develop mild Autism. Although Qais does not talk much, his smile is worth a million words.
Mr. Mustafa Haj Abed, Qais' Arabic teacher, said: "Qais is always isolated as if he's living in his own world. He has speech problems as he is unable to pronounce certain letters. The remedial education program succeeded in entering his world and speaking his language". Mr. Mustafa completed: "To tell the truth, there is no sign of academic improvement but certainly, now, he is more sociable and he accepts teacher's directions as a sign for behavioral modification". "Qais needs to be subject to a medical program and to be integrated in a regular remedial education program as well", completed Mr. Mustafa.
Sara, Qais's eldest sister welcomed us at their house. Sara started talking with sorrow: "I am a student at Al Quds Open University and I feel sorry for my brothers and sisters. My mother and father are relatives, they have seven children and my brothers and sisters have really suffered". "I am doing my best to help them, but they need a program like the remedial education to be integrated into. Qais was very happy during the program; he used to come from school finish his lunch and then run away to the School again to join the remedial education program. I felt thrilled to see that as he never feels excited to anything concerning school" smiled Sara while talking. "I would like to thank World Vision for their support and I wish that they implement such program to older students like my brother Mo'men who also suffers learning difficulties", Sara commented.
Hussam is the third boy in a relatively small family. His mother, Arij Nazal, 35 years old, a mother of four, welcomed us in her home. Arij started by saying: "I have four kids, two of them are with disability and my husband regularly takes them to doctors. I feel helpless as I don't know how to deal with their stubborn attitudes". "At the beginning, Hussam was not interested in the remedial education program and day after day I discovered his craving to go. In the past, I found it difficult to make him sit with me to practice writing the alphabetical letters. For the first time, he brought a letter game he had a long time ago and started to play with it alone", Arij continued. "I was very happy with the change and I supported him. He's better with numbers now and we will work it out with letters. Now, he spends longer time at the house's front yard than before which is very promising to me. I feel that the program succeeded in accomplishing what I was struggling to do a long time ago. I wish it lasted longer" said Arij.
"We would like to thank World Vision for establishing a resource room that helped a lot of our slow learners and disabled students to increase their performance". Mr. Tawfiq Qalalwa, Siris Boys Primary School Principal commented. "The MoE stresses on the importance of integrating disabled children in the mainstream classrooms and emphasizes on training teachers in order to be able to deal with their needs". Mr. Qalalwa completed: "out of the 457 students, we have 24 disabled students that we try to integrate with other students. The impact of the integration of the disabled student is very positive as they learn better from peers, develop their social interaction skills and learn how to accept their disability. Other students can also learn how to be cooperative and consider difference in people".  "In general, the remedial education program succeeded in planting hope for those three children and we are willing to integrate more disabled children in the future remedial education program", said Mr. Qalalwa.
Although it was heartbreaking to see how challenging the life of a child with disability is, inspiring promisses are what you see in the eyes of these children. Hope was witnessed after implementing such an initiative which not only brought hope to our hearts but also taught us the meaning of strong will and determination.
[1]   Yeo, Rebecca (2005). "Disability, poverty, and the new development agenda". Disability Knowledge and Research Programme. Retrieved June 19, 2013.
[2] World Health Organization, World report on disability, 2011.
http://www.who.int/disabilities/world_report/2011/report.pdf