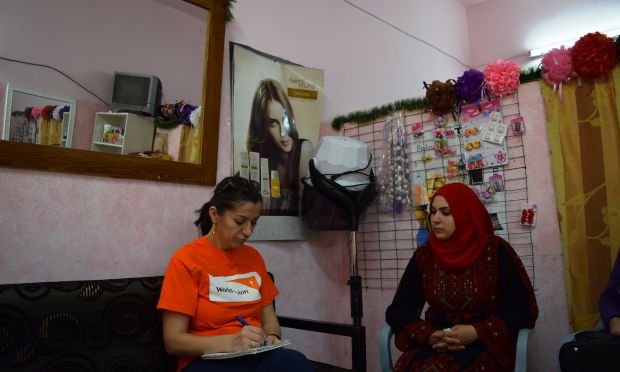 Earlier this year, Matilda Filipeu, a programme officer with World Vision Canada, visited World Vision's projects in the West Bank. In this article, she describes her meeting with Raja, a woman who benefited from a World Vision training program that allowed her to open a hairdressing salon in the town of Yabad, which is part of World Vision's West Jenin Area Development Programme (ADP).
Raja greets us in her small, but well-appointed beauty salon in the town of Yabad. She welcomes us warmly and, urging us to take a seat, she tells her story in a quiet, but firm voice. Raja' suddenly found herself as the sole breadwinner in the family after her husband suffered a serious injury after a fall at his job.
"This accident changed our life and my destiny," Raja says with a sigh. "We were not able to support ourselves and the house that we started to build in our town became an impossible dream."
The family lived in a small house with one bedroom for Raja, her husband, her parents and all three children, along with a kitchen and a bathroom. With little money of their own, the family relied on funds provided by relatives, who were only able to offer about $25 (U.S.) every two weeks. With no other options, Raja began to look for work in order to support her family. Initially, she began styling her neighbours' hair for a nominal wage, while her 15 year-old son also found work to help provide additional money.
At the same time, Raja became an active member of the village's local women's centre, where she worked in a canteen that was funded by World Vision to help enhance the healthy food options in schools. When World Vision announced a vocational training for women interested in the field of hairdressing Raja was among the first to register.
"I couldn't believe it when I heard about the training, I was so excited because I like this type of work and I have the talent for it," she told us. "I was afraid that I will not be able to afford it, but apart from some small transportation fees, the whole thing was entirely free."
After she finished her training, Raja rented a small shop and, after her relatives helped her to rehabilitate, clean, and paint the walls, she opened her own beauty salon. Thanks to finishing her training at the top of her class, World Vision provided her with funds to purchase tools and materials. Thanks to Rana's hard work and talent, her business soon grew and her family's living situation started to improve.
"The first money I received from my first client was about 12$ [USD}," Raja remembers. "It was like a treasure to me. Now, I work hard. I'm well known in my village, and I earn enough to provide for my family and not depend on support from outside."
Recently, after years living in a small, cramped house, Raja's family moved to their comfortable new home, which has a small yard where her children can play. She is very grateful to WV for helping her.
"World Vision has shown its grace toward me personally and toward all women like me. I was lucky to benefit from its projects at different stages of my life," she says. "In my darkest days, World Vision was there for me, like the lifeline that pulled us from the dark to the light and to a brighter future."
As Raja shares her story with me, I am filled with sympathy for the circumstances that forced her to go through such hardships. But I also look up at her as an example of perseverance and dedication to her family. I could tell she was empowered to the point she could take her life and those of her family members in her hands and change them for the better.
We ended our visit at Raja's store filled with hope that women can make a difference in their communities, even in such difficult contexts such as Palestine. Raja makes sure she offers a drink and sweets to us as a sign of appreciation for visiting her place and spending time with her. I make sure to share with her that we were the ones that were blessed by listening to her story and wish her and her family well.