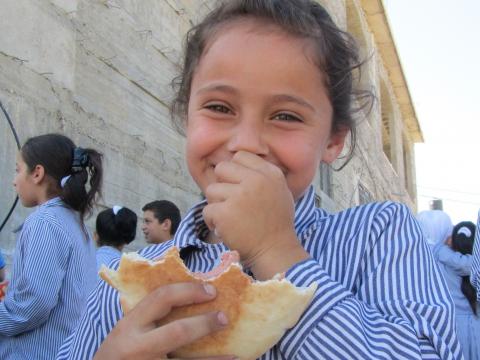 Bethlehem ADP
Villages ADP Located In: Nahhaline, Al-Wallajeh, Al Ma'sara, Al Manshiya, Jurat ash Sham'a, Khalit Al Haddad, Marah Mu'ala, Marah Rabah, Umm Salamuna, Wade Al-Nis, and Wade Rahal
No. of Registered Children: 3,543
No. of Direct Beneficiaries: 14,580
No. of Indirect Beneficiaries: 19,404
No. of Communities Served: 11
No. of Community-Based Organisations and/or Schools Served: 21
Total No. of Staff: 10 fulltime staff members and 1intern
Support Office: World Vision Australia
WHERE WE WORK
The Bethlehem governorate is one of 16 governorates of the West Bank and Gaza within the occupied Palestinian territory. It lies south of Jerusalem and its principal city and district capital is the Bethlehem Municipality. The governorate has a population of nearly 199,500 and covers an area of 31,521 dunums, (about 7,789 acres).
World Vision has been working in Bethlehem since 2000. World Vision began working in the west and now works in both west and south Bethlehem in eleven different villages.
In the west, World Vision supports the two villages of Nahhaline and Al-Wallajeh serving more than 10,000 people. Nahhaline is surrounded by Israeli settlements and Al-Wallajeh is surrounded by the separation barrier, a nearby Israeli settlement and Jerusalem. The land area of these villages is 16,454 dunums (almost 4,066 acres), of which 5,620 dunums (1,389 acres) has been confiscated by the Israeli military for the construction of settlements, roads, and the separation barrier.
Southern Bethlehem is bordered by Israeli settlements and the cities of Bethlehem and Hebron.  In the south, World Vision serves 9,367 people in a land area of 23,923 dunums, (almost 5,915 acres) in the nine villages.
While World Vision's programme offices are located in an area under full Palestinian control (civil and security), many of the villages supported by this project are located in areas of shared Palestinian-Israeli control and/or areas under full Israeli control.  
 OUR COMMUNITIES' CHALLENGES
World Vision's assessments have found much social conservatism in Bethlehem communities, were segregation between men and women is common and religious conservatism can be found. Loyalty to tribal and political parties, patriarchal and hierarchal relationships, and gender discrimination are also prevalent.
One of the main challenges in Bethlehem is the illegal Israeli occupation of Palestinian territory, including Bethlehem. This includes: military checkpoints, roadblocks, and the confiscation of considerable agricultural lands for the construction of settlements and bypass roads. The further territorial isolation, due to the Israeli separation barrier whichhas been in place since 2003, is also a burden.
The planned route of the barrier will annex the western Bethlehem villages inside Israel and separate inhabitants from their families in the city and restrict residents' access to their lands. In total, 29 per cent (1,300 dunums or about 321 acres) of the western Bethlehem cluster land area of 45,000 dunums (almost 11,120 acres) will be confiscated upon completion of the barrier. Within the present context of segregation, these communities, if not introduced to alternative modes of development, empowerment, and participation face a bleak future. Other challenges include: poor transportation facilities, unsafe roads, and poor telecommunication networks. Another main challenge is water supply, as the main sources of water to village residents are springs, which are often polluted from the sewage and factory waters of neighbouring Israeli settlements.
PARTNERING TOWARDS ACHIEVEMENT:
EMPOWERING CHILDREN
Within its communities, World Vision continues to partner with the families and children in the communities towards empowering children to be future leaders and agents of change. This is being done through work with schools and kindergartens; building the capacities of teachers and community leaders, and allowing children the opportunity to voice their needs and practice their right to participate in decisions that affect their lives."Our schools are clean areas of Violence". This was the topic of the training conducted with 90 schools' teachers on using alternative ways rather than using violence. The teachers gained skills and exchanged experiences on how they deal with students and their violent actions. Additionally how to motivate children at class, and distract students from violence action to more productive actions at schools.  
World Vision is committed to strengthening the resilience of the most vulnerable communities in the occupied Palestinian territory. As part of the MEER Community Resilience/Disaster Risk Reduction program, the Bethlehem ADP, in partnership with the Directorate of Education and Civil defense conducted trainings for around 6200 students and teachers on Disaster management, first aid, and evacuation. 
Besides, civil defense conducted the "safety schools checklist" with all schools, and emergency plans were developed by schools headmasters. World vision is helping schools and communities to respond to disasters by equipping them with skills and resources to effectively respond to disasters. The ADP distributed fire extinguishers, installed safety fences, rehabilitated sanitation units and drinking fountains and formed and trained Disaster Committees for each school. The ADP also trained women and youth on effective Disaster Preparedness mechanisms, including: responding to fires or incidents in the home and appropriate evacuation methods as well as primary first aid. 
COMMITMENT TO SUSTAINABILITY
World Vision realizes the importance of village committees and the local steering committees' roles in identifying, implementing, and monitoring the development projects in their communities. Together, they work to assume responsibility for these projects and represent their communities in participation with the children of these communities.
In Bethlehem, World Vision has built and sustains solid relationships with strategic partners in the area, including: the Directorate of Education; the Directorate of Health, and the Directorate of Agriculture, as well as local non-government and community-based organizations and together are striving to complement rather than compete and ensuring long-term sustainability of its overall development interventions.
During the year 2014, Bethlehem ADP, and in partnership with the Directorate of Education-Bethlehem, had contributed in the furnishing and providing education tools for resource room in Marah Rabah Girls high school. The resource room will be serving students who have learning difficulties in the subjects of Mathematics, Arabic and English languages. 
Role of Women 
Under the ANCP Project "Bethlehem Women's Economical Empowerment", Bethlehem ADP partnered with ASALA "Palestinian Businesswomen Association" to implemented a specialized training on budgeting and saving at the household level. The training targeted 6 villages with more than 116 committed women participating in it. Overall feedback on the training had been very positive, where many women had stated that they have implemented the knowledge they have gained at their household and touched the feasibility of managing the household resources and save by doing small actions that are affordable at anytime. 
A SHARED FUTURE
World Vision Jerusalem-West Bank-Gaza seeks to impact the lives of over 200,000 children through its programmes and directly benefits the lives of over 168,000 people in 116 communities throughout the occupied Palestinian territory. Through its Area Development Programmes, World Vision works with 500 community-based organizations and schools to empower families and children to become agents of change for a better future. World Vision seeks to ensure that all families and children are cared for, protected, and participating.
Sources:
1) Palestinian Central Bureau of Statistics (PCBS), 2012. Population Projections "Localities in Bethlehem Governorate by Type of Localities and Population Estimates for Selected Years.
http://www.pcbs.gov.ps/Portals/_pcbs/populati/beth.htm
2) The Applied Research Institution – Jerusalem (ARIJ)/ Society, Geographic Information Systems 2010, www.arij.org
3) The Applied Research Institution – Jerusalem (ARIJ)/ Society, Trapped Within the Claws of Occupation Bethlehem Western Rural Villagers Striped of their Lands, May 19, 2005