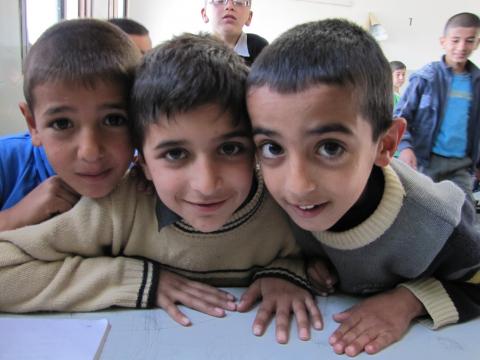 North Nablus ADP
Villages ADP Located In: Nisf Jbeil, Sabastia, Talluza, Ijnisinya, Yasid, Deir Sharaf, Burqa, Bizzaryia, Beit Imrin, An Naqura, and Qusin
No. of Registered Children: 1,911
No. of Direct Beneficiaries: 16,951
No. of Indirect Beneficiaries: 22,702
No. of Communities Served: 11
No. of community-based organisations and/or schools served: 42
Total No. of Staff: 11 fulltime staff members serving the North, East, and Center Nablus ADPs
Support Office: World Vision Canada
WHERE WE WORK
Located in the northern part of the West Bank, the Palestinian governorate of Nablus has a population of 321,103 people and is located in a narrow valley situated between two mountains. To the west of the governorate lies the Mediterranean Sea, to the east the Jordan River and to the south, the city of Jerusalem. The city of Nablus is located in an area which falls under Palestinian Authority (PA) for civil and security control. Many of the villages touched by the Central Nablus ADP, however, fall into areas that have joint control and/or are completely under Israeli civil and security control.  
In northern Nablus, the Palestinian communities face significant challenges. Due to the political situation and the on-going Israeli military occupation, Palestinian families face checkpoints, road blocks, restrictions on movement, land confiscation, and the separation barrier. These communities are also neighboured by illegal Israeli settlements. There are currently around 500,000 Israeli settlers living in settlements in the West Bank. Poverty and an unemployment rate of 54 per cent are also but two of the challenges faced by the residents in Nablus. Educational and health care systems are also of poor quality, creating concern for the protection and well-being of families, especially children living in these areas.
GOOD HEALTH NOW
World Vision has been working to improve the well-being of children and livelihoods of families in North Nablus since 2009.
Families in North Nablus are being trained about proper nutrition practices, through World Vision's awareness projects. Water fountains are also being rehabilitated and sterilized to improve  access to clean water. Water management and safety awareness sessions are being offered to help households ensure children and their families can enjoy sustained good health.
LAND
World Vision helped families reclaim twenty uncultivated acres in the village of Yasid in the North Nablus ADP. The participants decided to plant almond trees. Five families were chosen, in cooperation with the village council based on their needs, to participate this intervention. To ensure the sustainability of this activity, the participants were trained, along on best methods and techniques for planting and harvesting almond trees to increase its production and provide sustainable solutions to increase the families' household incomes.
EDUCATION FOR LIFE
Educating the children of today guarantees a brighter future tomorrow. Through the organization or activities and recreational days and the provision educational materials for children and schools, World Vision works to make sure children in northern Nablus are education for life. World Vision continues to rehabilitate schools and kindergartens and work with children to improve their academic performance. Training for teachers, headmasters and communities is furthering the work towards this goal. Additionally, World Vision continues to work with children with special needs, promoting lifelong education for all children, families and their communities.
Twenty-nine "open days" were held in schools and kindergartens for 5888 students in the North Nablus ADP. These activities aimed to strengthen the relationship between schools, parents and students. One student said, "The 'open day' is not only a day to honour outstanding students through gifts, but it also an opportunity us to show our talents in front of our parents and community."
CARED FOR TODAY & TOMORROW
Focusing on the importance of child safety and well-being, World Vision conducts awareness workshops with families regarding the vital role children should play in their communities as active members in the decisions affecting their lives. Through empowering women and youth via income generating courses, World Vision hopes to instil skills in today's generation and empower them to transform the next generation to come.
 A SHARED FUTURE
World Vision Jerusalem-West Bank-Gaza seeks to impact the lives of over 200,000 children through its programmes and directly benefits the lives of over 168,000 people in 116 communities throughout the occupied Palestinian territory. Through its Area Development Programmes, World Vision works with 500 community-based organizations and schools to empower families and children to become agents of change for a better future. World Vision seeks to ensure that all families and children are cared for, protected and participating.
Sources:
1) Palestinian Ministry of Agriculture, 2008, www.moa.gov.ps
2) United Nations Office for the Coordination of Humanitarian Affairs occupied Palestinian territory (OCHA), February 2012, www.ochaopt.org