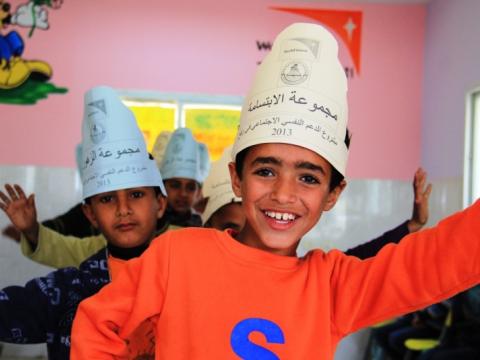 South Gaza ADP
Villages ADP Located In: Al Shaboura camp and the Al Shouka village
No. of Registered Children: 4,500
No. of Direct Beneficiaries: 10,000
No. of Indirect Beneficiaries: 50,000
Communities Served: 2
No. of Community-based organisations and/or schools served: 35
Total No. of Staff: Eight fulltime staff; two interns and six volunteers
Support Office: World Vision USA
WHERE WE WORK
South Gaza is surrounded by the Egyptian borders to the south, Khan Younis governorate from the north, the Mediterranean Sea from the west, and Israel from the east. The governorate of Rafah in southern Gaza is 35 kilometres (21 miles) south of Gaza city. With a total land area of 60 square kilometres (23 square miles) the Rafah Governorate represents 16.5 per cent of the Gaza Strip. With a population 223,000, Rafah is a densely populated area with an annual growth rate of 3.3 per cent. 
WORKING WITH COMMUNITIES
The Southern Gaza Area Development Programme (ADP) was established in 2001 with the aim to initiate long-term programming and bring back hope into the lives of children and families through child sponsorship.  Through its projects, World Vision seeks to: meet the basic needs of families; provide quality education and access to proper health care as well as care for children while supporting families with opportunities to sustain a stable source of income. World Vision works with its different communities in Al Shaboura—the Rafah refugee camp, the Bedouin, and the rural community in Al Shouka— by focusing on addressing the different needs of children, their families, and the communities themselves. World Vision hopes to continue the positive impact witnessed in the lives of the community through its interventions, where noticeable changes are taking place in livelihood, education and child protection.
Within the communities where World Vision works, families and children face many challenges that affect their quality of life. One major challenge is the complete land, sea, and air blockade that has been enforced by Israel and which the United Nations and Amnesty International have called "collective punishment"and "illegal" under international law. The village of Al Shouka, which lies directly on the southern border of the Gaza Strip, is one of 14 localities along the eastern line of the Gaza Strip directly affected by the Israeli militarized buffer zone. Within Al Shouka, the lost area inside the buffer zone is approximately 7,370 dunums (about 1,821 acres) which represents one third of the village area. The confiscation of these lands affects the lives of 5,400 persons. Additionally, unemployment is particularly high in the Gaza Strip at 31.9 per cent and, 38.8 per cent of the population lives under the poverty line. These obstacles continue to hinder the development in the area and make it difficult for families to enjoy quality of life.
 REMEDIAL EDUCATION
World Vision seeks to ensure that all children are educated for life. Working with children with low academic performance, the South Gaza ADP seeks to support children through remedial education for those children whose families are unable to afford special care for their children. These interventions have led to improving school performance while also encouraging self-confidence and self-esteem.
EMERGENCIES & CHILDREN
In the last December, Gaza Strip has been facing a fierce weather which is said to be unprecedented along the last 70 years. 485 families were forced outside their flooding houses reaching 2825 persons, De Facto Government officials said. Humanitarian needs arose in the extending area of Gaza Strip as a result of the serious deterioration of the humanitarian situation. In particular, Rafah City had a death toll of 3 baby girls at the age of 3; one of them was frozen to death. 44 houses have been totally sunk and the families were evacuated to schools, while 1200 families had their houses partially damaged or roof sheets flee. Over 20% of the greenhouses have been partially damaged or flooded.
The South Gaza ADP staff has conducted field and home visits for the sponsored families who has suffered casualties and helped of them to move out their houses when it's unsafe to stay in them. Moreover, 5 child friendly spaces received 500 children and conducted psychosocial support activities, debriefing sessions for the children who suffered fear and anxiety and helped them to overcome their hardships in cooperation with their mothers who have been trained on the Psychosocial First Aid previously.
A long side, children enrolled within remedial education program in partnership with 4 partners CBOs. Children received daily remedial classes through 12 special tutors where Partners provided with needed stationery and educational materials.
6 schools, I KG and 1 CFS are equipped with most needed materials, furniture and recreational tools for better educational and recreational atmosphere for children of Rafah during normal and emergency situations.
WORKING ALONGSIDE WOMEN
Building on the history of enhancing the women in Rafah area in the field of livelihood and economic development, more than 100 women has benefited from our projects in 2013 in the sewing unit, livestock breeding, and home-gardening.
The South Gaza ADP's community health workers are also visiting pregnant mothers and others with newborn babies to educate them on the topic of Mother and Child Health and Nutrition (MCHN). These community health workers have conducted more than 1000 visitations till now and still. On the other side, 500 mothers are subject to the psychosocial support activities alongside with their children in order to provide an integrated care for their children. 
SUPPORTING THE DISABLED
For more than 14 years, the South Gaza ADP has been working with and supporting children with hearing disabilities in the field of health and education and the extracurricular activities at Al Amal Deaf School. This helped enhance their participation and integration in their immediate communities. 150 children with hearing disabilities participated in the special learning and life skills and participated in the 39th Arab Deaf Week showing their abilities and talents in dancing shows, Dabkeh and artifacts exhibitions. Potentially, our selection criteria for the economic and livelihood development have a room for the disabled youth to be a part of our internship and vocational work activities. 
SPONSOR A CHILD
Sponsorship offers not only a gift of support for children and their families, but also relationships that can last a lifetime. Through different activities focused on child well-being, World Vision encourages children to enjoy themselves and have the opportunity to play in safe areas. Sponsorship has provided birthday celebrations, recreational shows and gifts for poor and marginalized children who are otherwise lacking these opportunities. Through its work in southern Gaza, World Vision hopes to instil children with a vision of hope for the future.
A SHARED FUTURE
World Vision Jerusalem-West Bank-Gaza seeks to impact the lives of over 200,000 children through its programmes and directly benefits the lives of over 168,000 people in 116 communities throughout the occupied Palestinian territory. Through its Area Development Programmes, World Vision works with 500 community-based organizations and schools to empower families and children to become agents of change for a better future. World Vision seeks to ensure that all families and children are cared for, protected and participating.
Sources:
1) Palestinian Ministry of Interior, www.moi.gov.ps/en
2) United Nations Office for the Coordination of Humanitarian Affairs occupied Palestinian territory (OCHA), www.ochaopt.org