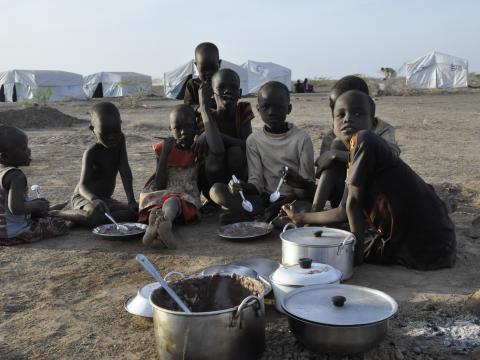 World Vision provides humanitarian assistance to thousands of refugees fleeing violence in South Sudan
Wednesday, June 17, 2015
Nairobi, Kenya…The number of refugees arriving at the Kakuma refugee camp in Kenya continues to grow. By late August 2014, more than 42,000 were new arrivals and were being settled at the camp, according to the UN Refugee Agency (UNHCR). This number is expected to rise. 
A majority of the new arrivals are women and children and the UN Refugee Agency estimates about an average of 200-300 daily. Most of the arrivals are from Jonglei, Eastern Equatorial, Unity and Kordofon states in South Sudan.
A rapid assessment on the 'Kakuma refugee influx' conducted in early to mid January of 2014 by various aid agencies working in Kakuma, such as World Vision, indicated that more than 80% of the population arriving at the refugee camp is women and children.
"[Over] 5,000 children had arrived at the Kakuma camp, over 1,000 (1133) were separated from their parents or caregivers. Of these, 149 were unaccompanied minors," the report indicated.
World Vision is one of the many aid agencies working alongside government to provide lifesaving humanitarian assistance such as food, survival kits and child protection to thousands of refugees, including children, fleeing weeks of violence in South Sudan.
Alongside the World Food Program (WFP), World Vision is providing daily food assistance to the newly arriving refugees. Since January 14, 2014, World Vision has provided food assistance consisting of sorghum, yellow split peas, corn soy blend (CSB) flour, vegetable oil and salt to over 9,000 refugees newly arriving at the camp.
World Vision has also provided survival kits to help the new refugees settle to their new camp. The survival kits were donated to the UNHCR in charge of the refugee relocation exercise.
"World Vision has come to our rescue, we were in a fix, as we desperately needed the kits to be able to relocate the refugees to the settlement camps (from the reception area)," said Henok Ochalla, leader of the U.N. Refugee Agency's response in Kakuma.
The survival kits consisting of (tents, sleeping mats, blankets, kitchen utensils, sanitary towels, mosquito nets, children clothes, toilet paper, water purification liquid, soap among other items will benefit over 950 families (which amounts to over 5,000 people).
Samuel Mwangi, a World Vision aid worker working in Kakuma Refugee Camp said the survival kits will help reduce the pressure at the reception centre.
World Vision started operating in Kakuma in 2013 and currently operates in three of the four camps within the refugee camp, providing monthly food rations to over 65,000 people through the support of World Food Program (WFP).
Kakuma Refugee Camp is the second largest refugee camp in Kenya after Dadaab, a majority of which are fleeing political unrest and conflict in South Sudan.
Related Links: 
South Sudan: http://www.wvi.org/south-sudan 
Syria Crisis: http://www.wvi.org/syria-crisis