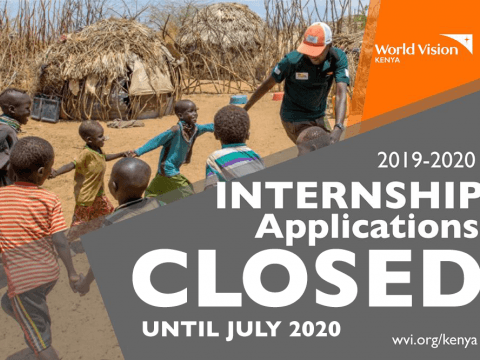 Internships
GRADUATE INTERNSHIP PROGRAMME (GRIP)
Application for the World  Vision Kenya  GRADUATE INTERNSHIP PROGRAM (GRIP) for October 2019 - September 2020 is now CLOSED.
21, July 2019 was the deadline for applications.
The World Vision Graduate Internship Program offers highly motivated individuals an opportunity to be exposed to the mission and work of World Vision international development. The internship allows individuals to bring new perspectives, innovative ideas and latest research experience into World Vision's work and improve their skills while working in a diverse environment. An internship at World Vision is an opportunity to learn while gaining practical experience. Interns generally find the experience to be rewarding and interesting. In addition, it is a way to enhance their CVs with practical work experience.​
​​​​​​NOTE
World Vision does not outsource its recruitment process to any organization or agency which, through website postings, mass e-mail messages, newsletters or otherwise claims to be doing recruitment on its behalf. 
World Vision does not, and will never solicit money for any part of its recruitment processes including short-listing, interviews, background, and/or medical check-ups.
World Vision will not be responsible for such fraudulent correspondence or any loss of money or theft which may result from anyone engaging in any fraudulent recruitment activity.
Please be cautious, and if you have any questions and/or would like to report what you believe to be a fraudulent World Vision recruitment person(s) or agency, please email careers@wvi.org.