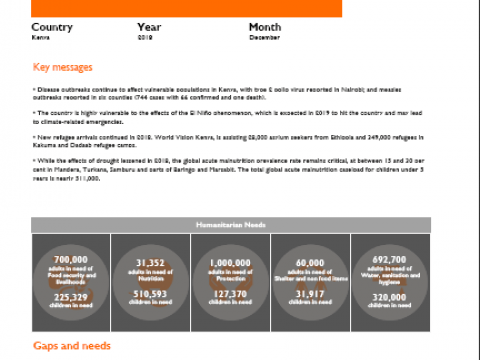 Kenya - December 2018 Situation Report
Tuesday, February 12, 2019
Disease outbreaks continue to affect vulnerable populations in Kenya, with type 2 polio virus reported in Nairobi; and measles outbreaks reported in six counties (744 cases with 66 confirmed and one death).
The country is highly vulnerable to the effects of the El Niño phenomenon, which is expected in 2019 to hit the country and may lead to climate-related emergencies.
New refugee arrivals continued in 2018. World Vision Kenya, is assisting 28,000 asylum seekers from Ethiopia and 349,000 refugees in Kakuma and Dadaab refugee camps.
While the effects of drought lessened in 2018, the global acute malnutrition prevalence rate remains critical, at between 15 and 30 per cent in Mandera, Turkana, Samburu and parts of Baringo and Marsabit. The total global acute malnutrition caseload for children under 5 years is nearly 511,000. For more information, read or download our December 2018 siatuation report.