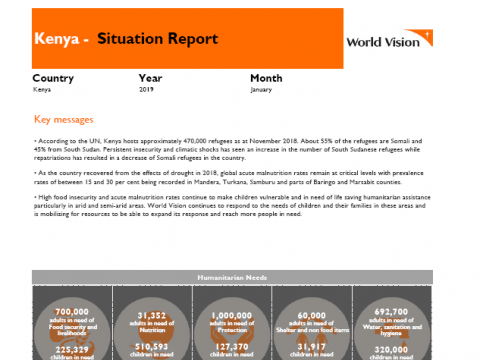 Kenya - January 2019 Situation Report
Wednesday, March 6, 2019
According to the UN, Kenya hosts approximately 470,000 refugees as at November 2018. About 55% of the refugees are Somali and 45% from South Sudan. Persistent insecurity and climatic shocks has seen an increase in the number of South Sudanese refugees while repatriations has resulted in a decrease of Somali refugees in the country.
As the country recovered from the effects of drought in 2018, global acute malnutrition rates remain at critical levels with prevalence rates of between 15 and 30 per cent being recorded in Mandera, Turkana, Samburu and parts of Baringo and Marsabit counties.
High food insecurity and acute malnutrition rates continue to make children vulnerable and in need of life saving humanitarian assistance particularly in arid and semi-arid areas. World Vision continues to respond to the needs of children and their families in these areas and is mobilizing for resources to be able to expand its response and reach more people in need.
For more information, read or download our January 2019 situation report.