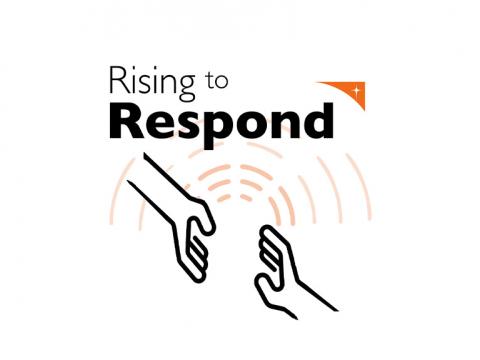 World Vision launches podcast series in lead up to World Humanitarian Day
Tuesday, August 18, 2020
International aid agency World Vision has launched Rising to Respond, a new podcast series that provides a behind-the-scenes look at what it is like for humanitarians to fight COVID-19 around the world.
"It's so important for us to bring the stories of vulnerable children into people's homes, as we all deal with our own struggles in the middle of this pandemic. We wanted to connect audiences with the challenges the people we serve are facing, how humanitarians on the ground are responding and how inspirational people are coming together to support vulnerable children and families battle the impacts of COVID-19," said Marcus Frost, World Vision's Partnership Leader for Global Marketing and Communications. 
Rising to Respond hears from world leaders, frontline workers and children from all over the world, as well as expert analysts, as it provides an audible insight into the realities communities all over the world are facing and fighting during this pandemic.
"What is it like to live with the threat and aftershocks of COVID-19 when you live in extreme poverty? Or in places where social distancing is not an option? Places with little or no access to health facilities? These are the questions this podcast series seeks to answer, sharing a few glimpses of positivity along the way," says Frost. 
Across four episodes, the first mini-series of Rising to Respond will focus on COVID-19 in fragile contexts, the threat of increased sexual and physical violence against children, the economic impact of the virus and how faith leaders are coming together to help communities respond.
"Right now we all need a bit of hope, and we're looking for hidden heroes to help us find that. Humanitarians are amongst those heroes. As we take a moment this week on World Humanitarian Day to appreciate the life changing, positive impacts that humanitarians have on the lives of the most vulnerable, this podcast gives an insight into their world. We thank God for them, and for our supporters who make their work possible."
Rising to Respond is available at https://www.wvi.org/risingtorespond and on your favourite podcast platform.
ENDS.
For further information or to organise an interview, please contact:
Niamh Cooper |  Director of Media and Social Media Engagement | niamh_cooper@wvi.org | Skype: Niamh.cooper5 | Phone: +353 87 942 3371
World Vision is a Christian humanitarian organisation dedicated to working with children, families and their communities to reach their full potential by tackling the root causes of poverty and injustice. World Vision serves all people, regardless of religion, race, ethnicity or gender.  For more information, please visit www.wvi.org or follow us on Twitter @WorldVision