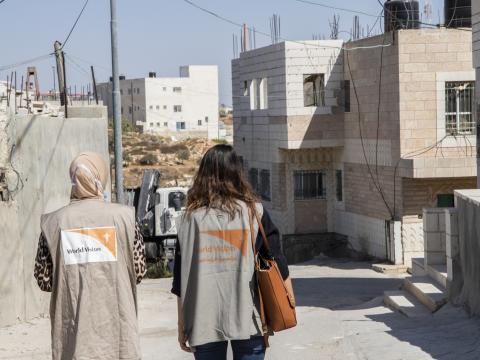 Children are paying with their lives
Wednesday, May 19, 2021
World Vision says children are paying with their lives in Israel-Palestinian conflict
May 19, 2021(JERUSALEM) International efforts to secure a ceasefire between Israel and Hamas to date have failed and innocent civilians, particularly children, have paid the price. Since May 10, 213 Palestinians, including 62 children (43 boys, 19 girls) and 35 women (3 pregnant) have been killed in Gaza by airstrikes. According to the United Nations, at least 119 of those killed are verified civilians, which means the ratio of military to civilian deaths is worse than 1:1.  In Israel, 12 people, including one soldier and two foreign nationals have been killed. The total number of deaths in the West Bank are 22 and the number of injured 4,824. One air strike also hit a refugee camp in Gaza with reports of 8 children killed from the same family.
With more than 72,000 people displaced, an estimated 800,000 without water and fuel at a premium, an already dire humanitarian situation for millions of people is becoming even worse. Conditions are prime for the rapid spread of COVID-19 as OCHA reports there is significant damage to the central testing laboratory in Gaza.
The hostilities have both damaged and prevented critical humanitarian aid. Shelling killed two doctors, damaged Medicines Sans Frontieres's (MSF) trauma clinic, and demolished or damaged another three international NGO offices. Efforts to send aid into Gaza on May 18 were interrupted by mortar shells from Gaza and only five of 24 planned trucks entered. There are 24 non-critical international staff of NGOs still waiting for evacuation and 13 critical staff are waiting to go into Gaza.
"It is deeply disturbing that differing political opinions on one of the world's longest standing conflicts are preventing a ceasefire agreement. Innocent children are paying with their lives, while too many choose long-entrenched positions over what should matter on a deeply human and faith level," said Lauren Taylor, National Director for World Vision in Jerusalem – West Bank – Gaza.
"Our hearts are breaking over what we see happening day in and day out in Gaza. The escalation of conflict in other parts of the Occupied Palestinian Territory oPt and Israel is also incredibly disturbing. Almost all our area programmes in the West Bank are affected by the violence. There are 47 villages in these areas with 16,833 children participating in our sponsorship programme. These children, along with so many of their peers, are experiencing trauma right now," said Eleanor Monbiot, Regional Leader for World Vision's Middle East, Eastern Europe Regional Office. "We must have access and the current insecurity is preventing our staff from bringing critical support to them."
World Vision categorically rejects violence and injustice, especially actions that threaten the lives of children and their well-being, both physically and psychologically. World Vision calls for an immediate and sustained ceasefire agreement through diplomatic efforts by the United Nations Security Council so not one more day of child deaths is allowed.
World Vision also joins with the UN and other NGOs to say that until a ceasefire is reached, all parties must agree to a ""humanitarian pause" to ensure access into and out of Gaza for humanitarian staff and critical goods. This includes the creation of secure conditions so relevant crossings can be opened.
There are serious concerns over indiscriminate and disproportionate attacks and other violations of international law by both sides in the conflict. There must be greater accountability mechanisms and processes for human rights violations, including grave violations of children rights, specifically the killing and maiming of children, denial of humanitarian access for children, attacks on schools and hospitals, and indiscriminate attacks on civilians and civilian structures.
Please join us in prayer and lament, "How long, O Lord?" (Psalm 13, NRSV).
Note to Editors
For more information, contact Communications Specialist Salam Qumsiyeh at info_jwg@wvi.org or +972 54 774 9522 
For over 45 years, World Vision has worked to improve the lives of children in Jerusalem, West Bank, and Gaza. In FY20, we reached 138,213 individual children, of which 74% are categorically considered most vulnerable in the West Bank. Our programmes focus on early childhood development, child protection, and community resilience.
World Vision serves all people regardless of religion, race, ethnicity or gender. We believe every child is created equal in God's sight and therefore deserves a life with dignity, a better future, and a chance to reach their full potential.
World Vision programmes serving 40,000 children in Gaza have been suspended since August 2016, though we still maintain a small office and four part-time staff. The people of Gaza are in desperate need of humanitarian support. More than 60% of households are food insecure and unemployment is more than 49%. Organizations like ours are needed and we do not know if we will be able to return.
[1] The source for civilian deaths can be found at https://reliefweb.int/sites/reliefweb.int/files/resources/flash_update_8_escalations_of_hostilities.pdf