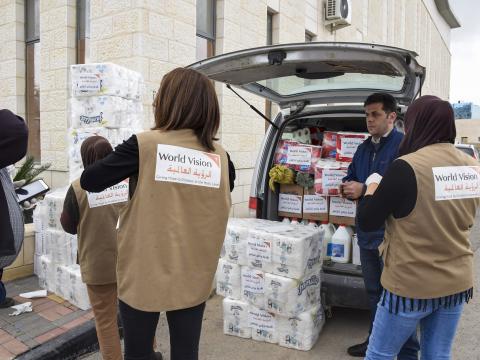 World Vision contributes to the response to COVID-19 in Northern West Bank
Monday, March 23, 2020
In line with its commitment to promoting the well-being of Palestinian families and children, and in partnership with the local community, World Vision Jerusalem - West Bank - Gaza contributed to the collective effort carried out by the Palestinian Government and civil society organizations to limit the spread of a coronavirus (COVID-19). World Vision participated in the crisis management in partnership and cooperation with the Governorates of Jenin and Tubas, the Directorate of Health and the Chamber of Commerce in the Governorate of Jenin.
According to the priority intervention identified by the Crisis Management Committee in Jenin, World Vision supplemented sterilization and disinfection materials and contributed to the preparation of the medical center designated to hold citizens affected by coronavirus. In addition, World Vision responded to all urgent needs of the Directorate of Health in Jenin and managed to provide them with the needed supplies.  
The Directorate of Health and the Chamber of Commerce and Industry in Jenin, along with the Governorate of Jenin praised the important role World Vision has played in supporting preventive measures during the country's state of emergency. "World Vision was one of the first organizations to support the Ministry of Health's examination center. They helped ensure the preparedness of the Directorate of Health to serves more than 300,000 citizens in the Jenin Governorate," said Dr. Wisam Sabihat from the Director of Health in Jenin.
The partnership with World Vision was also positively commented on by Ammar Abu Baker, head of the Chamber of Commerce, who said: "partnering with World Vision invests in building people's capabilities during a crisis such as the COVID-19 epidemic." 
Moreover, Khader Daraghmeh, the director of Planning and Development in the Governorate of Tubas, has emphasized that the cooperation of World Vision with the Tubas Governorate and local institutions has contributed to curbing the epidemic for more than 65,000 citizens living in the Tubas Governorate and the northern Jordan Valley.