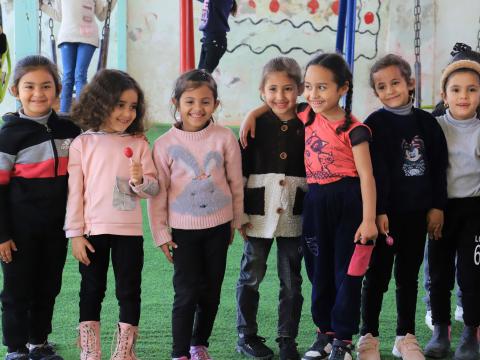 World Vision International and Juzoor, supported by BMZ, Launches a Project to Provide Mental Health and Psychosocial Support to Children in the West Bank
Monday, May 1, 2023
Ramallah, 2 May 2023
World Vision International and Juzoor For Health & Social Development, with support from the German Federal Ministry for Economic Cooperation and Development (BMZ), are launching a new project aimed at improving the mental health and well-being of children and families in areas B and C of the West Bank. The 36-month project, with a budget of one million euros, will be implemented in 34 communities located in Hebron, the Jordan Valley, Nablus, and Tubas.
The project will provide Mental Health and Psychosocial Support (MHPSS) to approximately 25,000 children (50% male and 50% female) and 25,000 caregivers (20% male and 80% female) through community facilitators who will be trained and coached. The project will also focus on rehabilitating playgrounds in 12 villages to improve their safety and environmental friendliness.
Another key objective of the project is to support Juzoor in developing and implementing new and innovative community-based MHPSS interventions through capacity building. The project will also strengthen Juzoor's capacities in finance, procurement, child protection, and fundraising. Palestinian civil society organizations such as Juzoor have a long-term presence in the targeted communities, and strengthening their capacity will contribute to sustaining the impact of the project.
A significant proportion of Palestinian children have been directly or indirectly exposed to violence at home and in their community. Other events such as poverty and COVID-19 have also had a significant impact on their mental health. Children who are exposed to prolonged stress, violence, trauma, and displacement are at risk of experiencing a range of mental health problems, including anxiety, depression, post-traumatic stress disorder (PTSD), and other psychological disorders. The severe and prolonged stress caused by emergencies, violence, and trauma can also have a detrimental effect on their brain development at a young age, leading to long-term consequences such as disrupted development and learning. This can increase the risk of physical health problems, including diabetes, heart disorders, and mental health conditions, later in life.
The lack of access to mental health services and resources in the West Bank exacerbates the situation. There are few MHPSS providers in the West Bank, and they are disproportionately distributed in urban areas, with rural areas mostly underserved. Even when available, cultural barriers such as stigma and shame can prevent children and their caregivers from seeking support.
Notes to editor
About World Vision International
World Vision International is a Christian relief, development and advocacy organisation dedicated to working with children, families and communities to overcome poverty and injustice. The organisation started to work in the West Bank and Gaza in 1975.
Since then, World Vision JWG has developed one of the largest community-based presence of any organisation operating in the West Bank with 91 dedicated staff and a total annual budget of US$11 million. In 2022, our programming on education, early childhood development, child protection and child resilience benefited directly more than 233,000 people, including 169,000 children in 150 villages in the West Bank.
About Juzoor For Health & Social Development
Established in 1996, Juzoor is a leading Palestinian NGO dedicated to improving the health and well-being of Palestinian families and promoting health rights in the West Bank, East Jerusalem, and Gaza. It promotes an interdisciplinary, cross sectoral approach to improving the health and social well-being of individuals, families and communities based on national targets and needs.