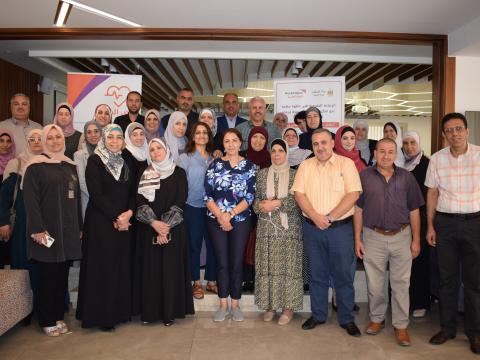 World Vision JWG: launching the Child Friendly Clinics Initiative
Friday, August 26, 2022
According to World Vision statistics,

282,507

children benefited from the mother and child services in 111 clinics in 12 area programmes.
The first few days of a newborn's life followed by the first six months are critical for the child's growth and development, and an important window for providing mothers with the support they need to breastfeed successfully. The Child-Friendly Clinic Initiative encourages primary healthcare facilities to better support breastfeeding. The initiative was developed to support successful breastfeeding and to promote optimal clinical care for mothers and their babies, in addition to providing mothers with necessary information, confidence, and skills to continue breastfeeding their babies.
Child friendly clinic has been one of the goals in the Palestinian Ministry of Health strategy 2017-2022, World Vision decided to step forward in supporting this initiative as it is fully complying with the Go Baby Go core project model.
Therefore, as a step towards implementing the child friendly clinic initiative, World Vision in partnership with the Palestinian Ministry of Health, conducted a training on the standards, concepts and principles of this initiative, where 112 primary health care administrative employees from all directorates of health in the West Bank participated in the training. This comes in the alignment with World Vision's mission to affect and improve the wellbeing of the most vulnerable children. This initiative will be expanded to reach the health providers in 111 health care clinics. In addition to provide those clinics with the needed equipment, tools and refurbishment.
''Child Friendly Clinics was a dream come true as it was a goal set in MoH strategy 2017-2022, and now through the partnership with World Vision, Ministry of Health succeeded to put the first milestone towards fully implementing this initiative in the West Bank,'' said Eng. Musa Halaika, the Head of the Nutrition Department and the main trainer on the child friendly clinic initiative in the Palestinian Ministry of Health.
The Child Friendly Clinics Initiative not only encourages breastfeeding best practices, but also provides guidance on aspects related to clinical environment, mother and child engagement, community engagement, health care staff training, and clinic management.
END.
For further information or to organize an interview, please contact: info@wvi.org

World Vision is a Christian humanitarian and development organisation dedicated to working with children, families and their communities to reach their full potential by tackling the root causes of poverty and injustice.
World Vision serves all people, regardless of religion, race, ethnicity or gender.  For more information, please visit www.wvi.org or follow us on our Facebook page World Vision Jerusalem - West Bank - Gaza