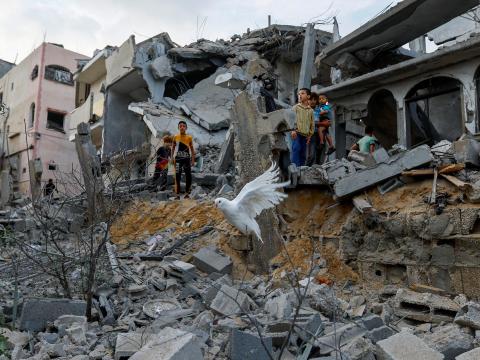 Ongoing conflict in occupied Palestinian territory and Israel
Tuesday, October 17, 2023
17 October 2023
International Christian humanitarian aid agency, World Vision, is responding to escalating needs in the West Bank as the crisis in occupied Palestine territory (oPt) and Israel continues.
"World Vision is Horrified and saddened by the loss of lives and suffering that this crisis has triggered. We believe every child is created in the image of God. Serious and grave violations against children have been reported in Israel and in the occupied Palestinian territory in the past week and World Vision urges all parties to urgently ensure the delivery of essential aid to affected communities," says Sharon Marshall, World Vision's Senior Director for Public Engagement.
"What is happening is a humanitarian tragedy that has already had terrible and worsening humanitarian consequences. The safety, security, and well-being of all civilians, especially children, must be the priority for all parties. We call for unhindered and safe access for humanitarian workers who are responding to this crisis."
 "The past ten days of violence began with the killing, maiming and abduction of children by armed gunmen; it is ending with the killing and maiming of children through the bombing of civilian infrastructure and essential public services such as schools and health facilities."
World Vision stresses that Israeli and Palestinian children should not be victims and have a legal right to protection and urges all international actors and those directly involved to prioritise peace and to ensure the protection of innocent children.
World Vision is responding in the region. For example, in the West Bank we are supporting vulnerable children, families and communities impacted by this crisis by responding to urgent family needs, creating safe spaces, and providing psychological services. We are responding in other areas where displaced people will need help and will continue to support through the crisis.
World Vision started operating in Jerusalem, the West Bank and Gaza in 1975.  Since then, the organisation has developed one of the most extensive community-based presences among organizations operating in the West Bank, with 80 dedicated staff. In 2023 the organisation worked with over 136,000 individuals, including almost 95,000 children residing in approximately 150 villages across the West Bank. World Vision also operates in a number of countries across the region including Lebanon, Jordan and Syria.
ENDS