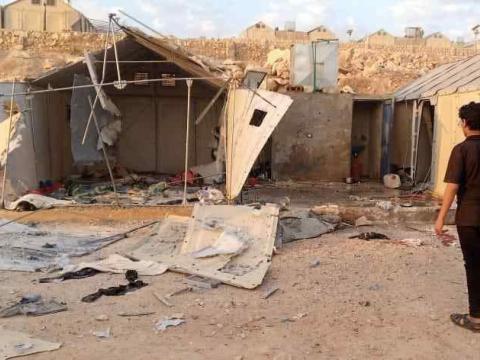 World Vision strongly condemns recent attacks on nine camps for internally displaced persons in Idleb city
Sunday, November 6, 2022
Sunday, 6 November 2022 – At least six people – including one woman and two children – are known to have been killed due to the intense shelling of nine camps for internally displaced persons (IDPs) in Idleb city this morning. World Vision strongly condemns this attack on the civilian population of Northwest Syria resulting in a tragic loss of life.
The affected area includes more than 23 camps supported by various humanitarian organizations, including World Vision. According to the latest information received from our teams responding on the ground, at least 75 people were injured by the shelling, 63 tents were destroyed, and more than 2,100 families have been displaced once again due to recurring violence. 
Conditions are already extremely harsh in Northwest Syria's overcrowded IDP camps where Syrian families continue to struggle to find decent shelter, access to clean water and warmth, particularly during these winter months. The recent Cholera outbreak is also threatening hundreds of thousands of Syrian children's lives. 
World Vision is currently working on improving access to formal and informal education for children in three of the targeted camps. Fortunately, the education centers were closed at the time of the attack and no children were injured. In order for Syrian children not to miss out on their education, our teams will be transitioning to online learning until it is safe for students to return to their classrooms. 
Johan Mooij, Syria Response Director at World Vision International, said: "Displaced people living in tents should not be 'targeted' with anything other than timely and essential humanitarian assistance." 
World Vision calls on all parties to the conflict to adhere to their responsibilities under International Humanitarian Law and end targeted violence against civilians. Too often, these indiscriminate attacks result in tragic but largely preventable loss of life and injury, in addition to children missing out on their education.  
ENDS. 
Note to editor 
For more; information, contact Hamzah Barhameyeh, World Vision Syria Response Public Engagement and Communications Manager. Email: hamzah_barhameyeh@wvi.org  
World Vision is a global humanitarian organization dedicated to working with children, families and their communities to reach their full potential by tackling the root causes of poverty and injustice. World Vision serves all people, regardless of religion, race, ethnicity or gender.  For more information, please visit https://www.wvi.org/syria-response or follow us on Twitter @WorldVisionSR. 
World Vision Syria Response has been operating inside Syria, Jordan and Türkiye since 2011, where we provide life-saving protection, education, WASH, livelihoods and health services to refugees and local communities.