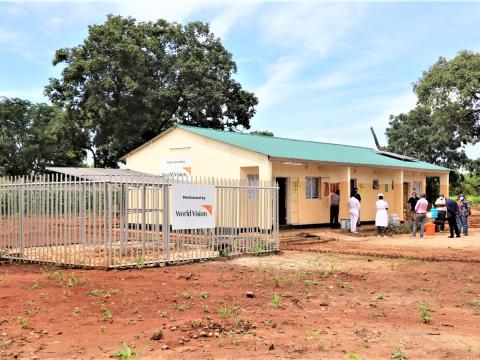 World Vision hands over new infrastructure to Zambian Government
Saturday, February 20, 2021
For Immediate Release   
Friday 19th February 2021, Lusaka - Zambia - World Vision has handed over a newly constructed maternity annex at Mtilizi rural health centre, along with a 1x3 classroom block and water system at Mwase primary school in Nyimba, to the Ministry of Health and General Education. The infrastructure valued at US $81,495 was handed over to the district line ministries in Nyimba district by World Vision Zambia's National Director, John Hasse.
Commenting on the maternity annex handover, Mr. Hasse said, "Our focus is helping the most vulnerable children experience life in all its fullness. Health and education are some of the important sectors for socio-economic development. Without proper health and education, a child cannot experience life in its fullness."
The maternity annex will provide a platform for delivering essential antenatal, perinatal, and postnatal care for pregnant and lactating women in the district.
Nyimba District Health Director, Dr. Martin Mbewe, noted that "The Ministry of Health is very grateful for the capital investment by World Vision because it creates the opportunity for expectant mothers to seek antenatal services. The Mtilizi rural health centre serves over 6,200 people and over 300 expectant mothers annually. Previously, some women would receive services on the floor because of inadequate space. The maternity annex therefore gives patients and expectant mothers the dignity and respect they deserve."
Mr. Hasse added that the 1x3 classroom block, semi-detached teachers' house, and water system will improve the literacy and overall education of over 500 pupils, and will now be supported by 11 Government teachers. "With this school, World Vision is confident that there will be improvements in children's academic performance, reduced absenteeism, especially for girls, and improved retention rates for teachers. As importantly, we are hopeful that the teachers will propagate the need for hand-washing with soap regularly to prevent the spread of COVID-19", he said.
Speaking on behalf of the Zambian Government upon receiving the education infrastructure, Nyimba District Commissioner Peter Kaisia says the newly constructed classroom block, teachers' house, and water system will improve the district's quality of education.
"Pupils from Mwase used to walk five to six kilometres to the nearest school, Nyimba Primary. The new Mwase Primary school will bridge the gap and boost interest in learning since it is within the community. All infrastructure constructed by World Vision is a prerequisite to quality education; as such, we are hopeful that we will at least have quality inclusive education in the district", Mr Kaisa stated.
Mwase Primary School Headteacher, Fines Sibenzu, says "teaching was a challenge for teachers because they did not have a board to write on, and pupils were writing from the floor."
World Vision constructed the school infrastructure through the generous contributions of Heathmont Baptist Church of Australia and community members around Mwase Primary School.