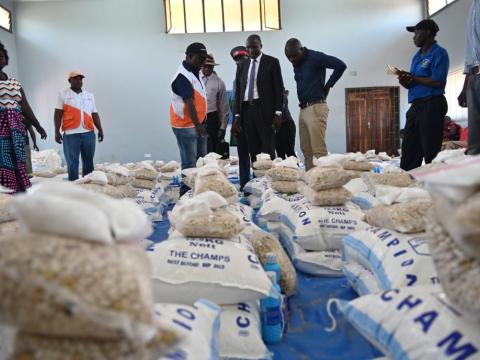 World Vision Zambia provides relief to over 5000 survivors of floods in Zambia
Tuesday, March 14, 2023
Tuesday 14th March 2023, Lusaka, Zambia - World Vision Zambia has launched a two million US Dollar emergency humanitarian response to support over 400,000 people affected by floods across the country.
Speaking during the flag-off of the response, World Vision Zambia Humanitarian Emergency Affairs director Bernard Zgambo said the initial support would help survivors recover from distress caused by the floods.
The organisation is already responding to the needs of internally displaced people in Mazabuka, Monze, Namwala, and Sinazongwe in Southern province by providing food, and non-food items, Water and Sanitation, and hygiene services.
"The devastation caused by the floods has affected over 400,000, with over 8,000 people living in camps in the Southern Province alone, exacerbating the demand for shelter, clean water, sanitation facilities, and protection services.  In the past two weeks, World Vision has provided safe, clean water to over 800 people in the Mukuyu camp of Mazabuka District. The response team has also provided six latrines with 23 drop holes and reached over 5000 people with hygiene promotion messages. " Says Bernard Zgambo.
"The immediate response is addressing the lack of basic needs for survivors of the floods in the affected areas. So far, over 5,200 people have received a 12.5 kg bag of mealie meal, a 2kg pack of beans, and a packet of salt. The organization is also providing a 2 kg pack of high-energy protein supplements (HEPS) to supplement dietary intent for children under (5) to reduce the risk of malnutrition," he adds.
World Vision is particularly concerned with the well-being of children and vulnerable adults living in camps and other temporal shelters against violations of rights during their stay in temporal camps. The safeguarding team is working closely with the ministry of education on integrating displaced children back into school. Child-friendly spaces are being set up in centres to ensure children are safe in their camps. 
World Vision Zambia is grateful for the support from various donors, including Miracle Life Family Church, START Network, Médecins Sans Frontières – Spain, Davis & Shirtliff, Zambia Sugar Company, and Lusaka International Communities (LICS) on the flood response in Zambia.
For more details, contact the following:
John Hasse – National Director, WV Zambia john_Hasse@wvi.org  Mobile: +260 971020069
Bernard Zgambo – Humanitarian Emergency Affairs Director, WV Zambia  bernard_zgambo@wvi.org | Mobile: +260977864010
Jason Befus – Resource Acquisition and Communication Director, WV Zambia  Jason_befus@wvi.org I Mobile: +260971469923