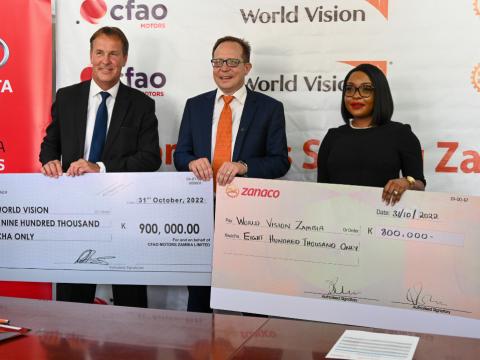 World Vision, Zanaco and CFAO partner to end child marriage in Zambia
Monday, October 31, 2022
Press Release
For Immediate Release                                                                                                      
Monday 31 October 2022, Lusaka, Zambia - World Vision Zambia, Zanaco Bank, and CFAO Motors have signed a three-year memorandum of understanding (MOU) that will see the three organisations work together to support girls rescued from child marriage or facing such risks.
The Strong Girls, Strong Zambia campaign, is a World Vision Zambia (WVZ) initiative to mobilise local resources and implement community activities in Pemba District from 2022 to 2025.
The campaign aims to reach and empower 15,000 girls retrieved from child marriages and those at risk to live safer, healthier, more productive lives. The campaign will run from October 2022 to September 2025.
"Through this MoU, CFAO motors Zambia, Zanaco and World Vision Zambia commit to collaborate in the successful implementation of campaign activities related to the water, sanitation and hygiene (WASH), education and livelihood sectors under the campaign in order to offer practical and sustainable solutions to girls who are retrieved from marriages and those at risk of the vice, for a successful fight against child marriage," said World Vision Zambia Chief Executive Officer John Hasse.
CFAO Motors Zambia CEO Dino Bianchi - said, "CFAO is proud to be part of this important initiative to support young girls and help them get on the right track as they start their journey through life. Education is key to this, and I urge the Ministry of Education to invest further in schools and teachers so the whole nation will benefit from nurturing well-educated and productive girls who will contribute meaningfully to society and the economy. It is an exciting prospect that more corporates should recognise and support."
Meanwhile, ZANACO CEO Mukwandi Chibesakunda said: "We are conversant that the fight against early marriages will take concerted efforts to ensure the attainment of the sustainable development goal of ending child marriage by 2030. As a bank that places importance on gender parity, we will continue to support  initiatives that ensure our girls and young women have access to equal opportunities in life."
As part of the actualisation of the MoU, the three partners have also embarked on the construction of a school ablution block with modern menstrual washroom facilities and a 1x3 classroom block at Kanchomba Secondary School in Pemba district at the cost of K1.7 million. CFAO and ZANACO will provide financial resources to World Vision Zambia, and World Vision will provide overall project implementation and accountability.
-End-
For further details contact:               
Tigana Chileshe
Communications Manager
World Vision Zambia
P.O. Box 31083, Great East Road, Lusaka
Mobile: +260 963303552
Email: tigana_chileshe @wvi.org
CFAO
Gillian Langmead at Langmead & Baker Ltd
+260 979 060705
info@langmead.com
Zanaco
Verona Mwila- Nkolola
Head Communications
Zambia National Commercial Bank
Email: verona.nkolola@zanaco.co.zm 
About World Vision Zambia                                                                                                              
World Vision began working in Zambia in 1981 with three community development projects in Northern Lusaka. Today, World Vision Zambia Limited (WVZL) works in over 50 districts across 9 provinces to serve vulnerable children and communities in the country. Through Area Programmes (AP) and grant projects, WVZL focuses on key areas of education, health, livelihood, water and sanitation, child protection and spiritual nurture. Children are at the heart of our work. With a workforce of over 500 professional staff and an annual budget of approximately US$40 million, WVZL works closely with communities, partners, and the Government of the Republic of Zambia to ensure vulnerable children live life in all of its fullness.
For more details about World Vision Zambia Limited, visit (https://www.worldvision.co.zm/ , https://www.wvi.org/zambia)
About CFAO Motors Zambia                                                                                                           
CFAO Group in Zambia, is the official distributor and dealer for Zambia's leading automotive brands, including Toyota, Hino, Ford, Suzuki, Volkswagen, MOTUL lubricants, MAXXIS tyres and Automark pre-owned vehicles.
Through its branches in Lusaka, Kitwe, Livingstone and Solwezi, and authorised service centres in Kabwe, Chipata, Mkushi and Kasama, the group also provides genuine parts and quality aftersales service across Zambia.
Toyota Zambia has been a trusted household name in the vehicle market since its establishment in 1963 as a member of the Lonrho group of companies.