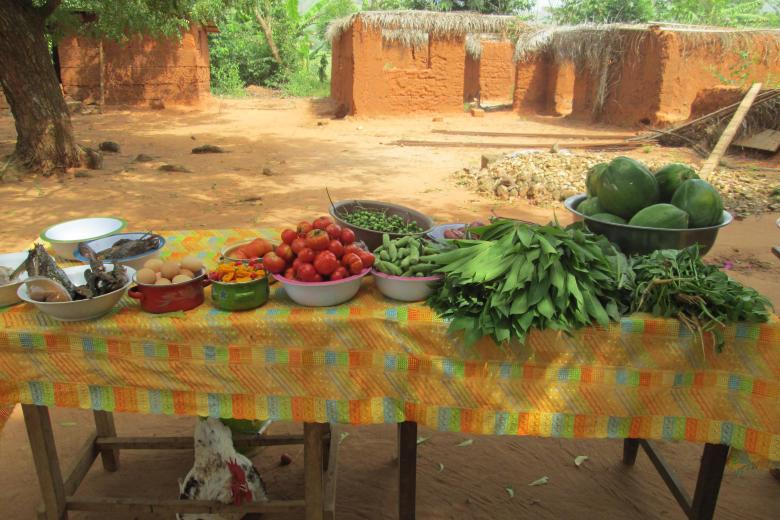 Nutrition Links: Building Capacity for Sustainable Livelihoods in Ghana
Thursday, September 20, 2018
World Vision was a partner in the multi-sectoral, five-year Nutrition Links project, helping to improve the food security, dietary quality and nutritional status of women and children under five years, while diversifying economic activities in rural areas of the Upper Manya Krobo District of Ghana. Collaborating partners included McGill University, University of Ghana, Heifer International, Farm Radio International, Population Council, Ghana Health Service, with funding from Global Affairs Canada. The Upper Manya Krobo District, with a population of about 75,000, is both isolated and poorly serviced; most roads are unpaved and access is hindered, especially during the two rainy seasons. There are high rates of anaemia and stunting  among young children and women of child-bearing age . Integrated agriculture-nutrition interventions were identified to help address these challenges. The project provided training on health, nutrition, agriculture, gender equity and financial literacy and was designed to foster collaboration among these diverse sectors in order to develop district-level capacity in nutrition and to examine intervention packages where integrated activities are combined to promote food security, health and nutrition.
World Vision's Global Health, Nutrition and HIV Community of Practice hosted a September 2018 community discussion presenting final results in September 2018.
Presentations on Nutrition Links have been made at various international conferences, including Experimental Biology Conference, African Nutritional Epidemiology Conference (ANEC) and Micronutrient Forum. 
Presentation by Grace Marquis from McGill University in Montreal, Canada: Food insecurity among households with young children in rural Ghana
Article in Emergency Nutrition Network Field Exchange: Nutrition-sensitive research in Ghana (see Nutrition Links info in Box 1 and 2)  
Building capacity for sustainable livelihoods and health in Ghana and Nutrition Links News and Updates, McGill University