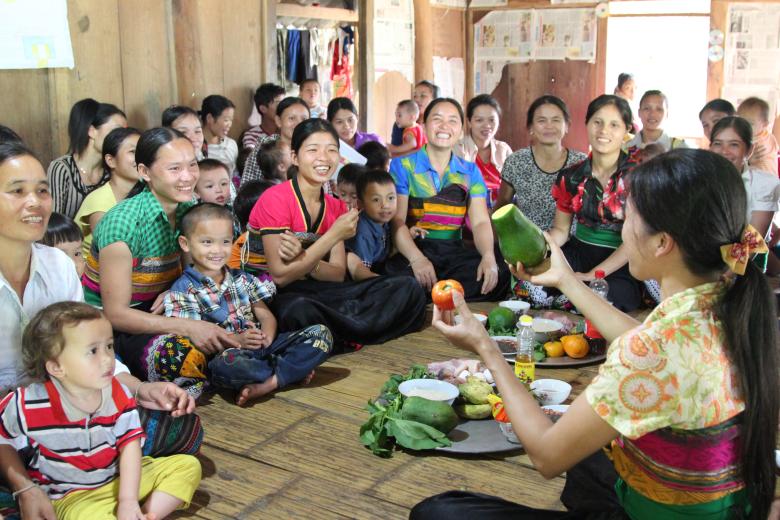 Nutrition Clubs in Vietnam
Friday, March 4, 2016
World Vision Vietnam's Nutrition Clubs provide a sustainable, community-based forum for multi-sectoral action to address childhood undernutrition.  Mothers who are pregnant or have young children gather twice each month at the village level to discuss their experiences and learn better practices in child care, feeding, health, sanitation, gardening and small livestock raising.  Nutrition Club meetings are facilitated by a trained community worker. Children's growth is monitored monthly during Nutrition Club meetings. Home visits to families with malnourished children help reinforce new practices and provide early identification of severe malnutrition.
The participants also make a small monthly contribution towards a group savings account, from which the members can take loans to improve their livelihoods.  These loans are typically used to strengthen smallholder farming activities through the purchase of small animals such as pigs and chickens.  Thus the approach integrates improvements in food security, smallholder agriculture, economic development, health and WASH under the over-arching goal of reducing child malnutrition. The Nutrition Clubs are well received, with 70 to 80% of target participants joining in the activities. Malnutrition rates are decreasing in provinces with Nutrition Clubs, compared to those without. Results from the first two years of implementation in Tien Lu Area Development Programme (ADP) show a decline in stunting from 32% to 23%. 
World Vision Vietnam initiated its first Nutrition Club in 2005 in Tra My ADP.  Scale up progressed rapidly from 2009, and by the end of 2015, there were 895 Nutrition Clubs across 14 provinces, reaching almost 27,000 children. The National Institute of Nutrition developed plans to further scale up the Nutrition Club approach through the government health system (its aim was to reach 12 provinces nationwide in 2015, including mountainous and rural areas).  Dr. Anh Vu Nguyen, WV Vietnam's Health Coordinator, was short-listed for the Transform Nutrition 2013 Global Nutrition Champion award for his tireless work in leading the scale up of the Nutrition Clubs.
Read more about Nutrition Clubs and view the Nutrition Club poster presented at a Global Symposium on Moderate Acute Malnutrition in May 2014.
WV Vietnam's nutrition clubs are featured as a case study in a Canada Food Grains publication entitled Growing Nutrition: How investing in agricultural development can improve nutrition (see page 15) and in the Viêt Nam News.
Read about four-year-old Phi, who is no longer malnourished since his parents joined a Nutrition Club in Vietnam. 
"My son, Phi, hasn't been malnourished since I started following the nutrition club's advice," says Phi's mother, Giac. "Next year, he'll start in grade one like the other children in my village. The nutrition club has made our dream come true."

 

Four-year-old Phi says: "My favourite meal is frog porridge with beans and rice, which my mum cooks. She says I'll be able to jump to school with my friends if I eat it."