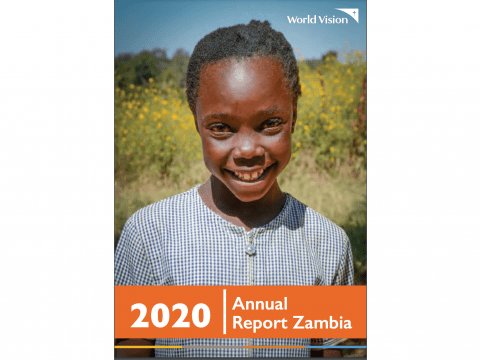 2020 Annual Report - Zambia
Friday, February 26, 2021
This report is an illustration of World Vision's contribution to an improvement in the well-being of vulnerable children and communities in Zambia throughout our 2020 Fiscal Year (October 2019 - September 2020).
The year 2020 was one of the most challenging years in our history. It brought with it a disease that threatened the lives of people on the entire globe and affected economies and children in a myriad of ways. Even today, people and economies are grappling with COVID-19 and its effects, especially among the most vulnerable communities.
Though the year 2020 was challenging, we still had a lot to celebrate as we closed the year. We drilled over 400 boreholes, rehabilitated over 230, and provided 36 water systems to various communities, schools, and health facilities. This alone provided water to 232,000 people across the country.
During the drought response, World Vision provided monthly food rations and seed amounting to 14,106 metric tonnes to 505,019 people in 13 districts across Zambia.
In everything we do, we recognise that success is founded on building and working with partners. We built strong partnerships with Government and UN Agencies to strengthen infection prevention and control measures in health facilities and designated COVID-19 isolation centres and increased our funding by 37% from the initial forecast of USD 35million to USD 48million.
We supported Government efforts in reducing maternal and child mortality rates by improving access to quality, essential health care services for mothers, newborns, and children under the age of five. In 2020, we enrolled 17,934 women against a target of 15,800 in our counselling programme for pregnancy care and encouraging pregnant mothers to attend antenatal visits and delivering from health facilities. The proportion of mothers reporting to have had four or more antenatal visits increased from 66.7% in 2019 to 76.6% in 2020.
--
Download the report to learn more!