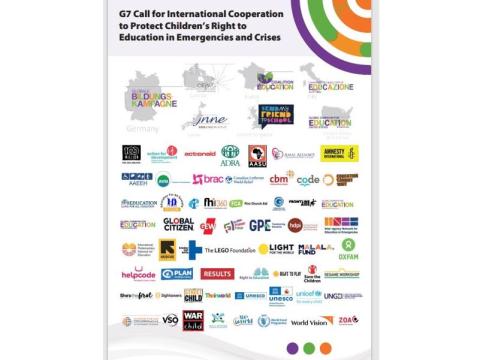 G7 Call to Action
Wednesday, April 13, 2022
This call to action has been developed with GCE-Germany in coordination with the global G7 Education Advocacy Working Group, co-chaired this year by GCE members World Vision and Oxfam. The call to action has received further support from organisations, networks, and private foundations involved in the Education community.
We hope this call to action will serve as a powerful engagement tool to draw the attention of political leaders to Education issues and to raise the visibility for Education during this year's G7. 
Let's not forget about previous G7 commitments and declarations on Education and particularly on girls' education, accountability to these declarations, and the need for increased political will and financing to support children's education in fragile and emergency contexts and for the longer-term building of resilient education systems. 
Please find here the translated versions of the Call to Action: Arabic | French |Portuguese | Spanish
PLEASE NOTE: this call to action is to be used most effectively for direct engagement with governments and/or G7 Sherpas.