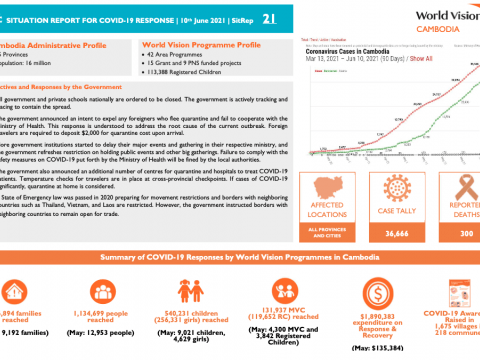 Covid-19 Situation Report 21 | 10th June 2021 | Cambodia
Friday, June 11, 2021
Current Responses by World Vision International-Cambodia
Guided all project and programme teams concerning what activities to continue, adjust, and suspend in each Technical Programme, Community Engagement, F&D and Sponsorship Operations. Working with the Government, UN and INGO/NGOs partners to monitor the situation and modify response coordination.

WVI-C received a grant project funded by Swiss Agency for Development and Cooperation (SDC) to implement 'Re-build COVID-19 affected communities' (RCAC) in Kampong Thom and Preah Vihear Provinces.

WVI-C revised and updated the national Response and Recovery Plan (R&R) till Sept 2021 and in Oct 21, WVI-C will further revise the R&R plan based on the situation of COVID-19 in Cambodia.

WVI-C shared a final report on the April COVID-19 Vulnerability Assessment (second study) internally and externally.

Training of Trainers for the Technical Programme evaluation has been completed and the data collection will be conducted from 16 June 21.

The vaccine roll-out plan was finalised and shared with WVI-C leaders and staff in the WV Regional Office.
The COVID-19 Oversight Team closely monitors the situation and provides instruction for all staff at the National Office as follows:
Until further notice, National Office Staff are REQUIRED to work from home. Only a few essential staff can go to the office with their Director's approval.

Staff (with the approval) can ONLY be at the national office for a limited time to complete essential tasks.

The Operations Director will take appropriate decisions for programmes, projects, regions based on the prevailing situation.

Staff are recommended to receive a vaccination when they become available through the Government's national vaccination deployment plan, led by the Ministry of Health.
Urban Programme's Response (20 Feb – 9 June 21) during lockdown in Phnom Penh
The Urban programme is working closely in collaboration with local authorities, including village, Sangkat and Khans to focus the response to the most vulnerable families in slums and red zone areas.

The Urban programme received grant funded by Plan International for COVID-19 response – The Phase 1 allocation of $20,000 will benefit 667 families and in Phase 2 $20,000 will benefit 667 families. WVI-C started project implementation in Phnom Penh city from June – 30 Sept 21.

1,807 families including 118 families in red zones received support from the WV Urban Programme and impacted a population of 9,511 including 3,253 most vulnerable children and 1,601 registered children.