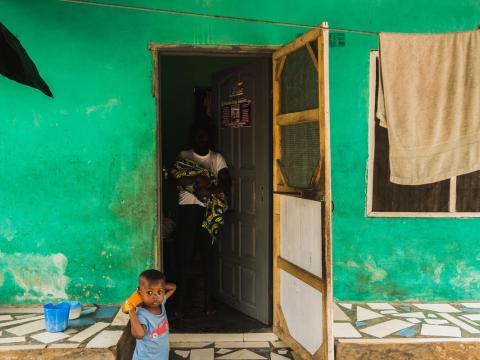 Children Report: The Violent Truth About Teen Pregnancy
Tuesday, October 8, 2019
Child research from 7 countries in Africa reveals shocking levels of violence and abuse behind the pregnancies of young girls. Teen pregnancies predominantly affect schoolgirls and often caused by older men, according to children.
Children have shared stories with World Vision of rape on the way to market, abuse by schoolteachers, and large numbers of girls forced into transactional relationships due to extreme poverty and the high cost of schooling.
A new report The violent truth about teen pregnancy, based on summaries of child research projects in seven African countries, shows what more than 500 children and teen mums think is causing teen pregnancy. The children who undertook the research discovered that when girls became pregnant, it was often as a result of sexual abuse by an adult, including school teachers. The child-researchers called the prevalence of rape, early marriage and forced sex work in their communities shockingly high. Child-researchers repeatedly suggested that poverty put girls at greater risk of sexual violence, as it forced them into transactional relationships, generally with older adult men.
"Ibra was a primary teacher. I met him on the road when we were back for the holidays. He was 28. He promised to take me back to school after giving birth. I still wanted to study. Now when I call him, he doesn't receive my calls. He's not there." Joanna*, 17, Uganda.
Across sub-Saharan Africa, child researchers saw teenage pregnancy as a major impediment to the education, health and well-being of their peers. Young mothers frequently suffer from health complications and almost always drop out of school, thus forgoing opportunities for education and a better life. Seventy-four per cent of children surveyed thought that adults were primarily responsible for impregnating their peers.
"Even though sexual violence and abuse, especially commercial sexual exploitation and child marriage, are illegal, these practices persist. Not enough is being done to enforce existing laws, and end the harmful practices which increase girls' vulnerability." Barbara Kalimi-Phiri, World Vision's Global Senior Advisor, Gender and Inclusion.
More than 120 million girls – in excess of 1 in 10 worldwide – will experience rape or sexual abuse before the age of 20. Teen mothers also suffer from stigma and discrimination. Almost 70 per cent of pregnant girls interviewed in Sierra Leone spoke of social isolation.
In Sierra Leone since conducting the research, the young researchers have also been targeting child marriage in their community, building on the recent successes of a programme in Bangladesh where a Child Forum stopped over 70 child marriages in two years.
"World Vision is working to end violence against children and ensure that all children have the opportunity of a safe and accessible education in more than 70 countries worldwide, through child sponsorship and our global campaign, It takes a world to end violence against children. This includes: establishing child protection committees, working with authorities to ensure pregnancy doesn't mean the end to a girl's education, and fighting to end child marriage and child sex trafficking through advocacy and community programmes. However, the children's reports show that more work is urgently needed to close the gaps in policies and implementations that allow abuses against these girls to persist." explains Kalimi-Phiri.