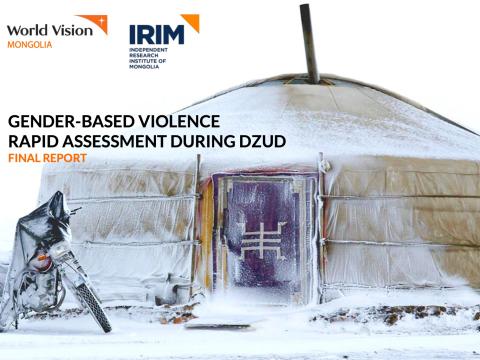 Gender-based violence rapid assessment during Dzud
Monday, November 6, 2023
This rapid assessment of gender-based violence during dzud aims to analyse protection issues and needs among target households that benefitted from the "Mongolia Dzud Emergency Response" funded by USAID's Bureau for Humanitarian Assistance, assess potential protection issues, and identify gaps in the protection services for affected families (comparing the period of dzud and normal (non-dzud) conditions).
To reach this objective, researchers collected data using one-on-one and group discussions with the representatives of local governors and local people among the 3665 households in 38 soums of 7 aimags, who received humanitarian aid and support from World Vision Mongolia.
Within the framework of the assessment, a total of 382 households in 14 soums of seven aimags and local stakeholders at the aimag and soum levels were surveyed. In addition, the researchers conducted three group discussions and three case studies by including representatives of the households exposed to Dzud.