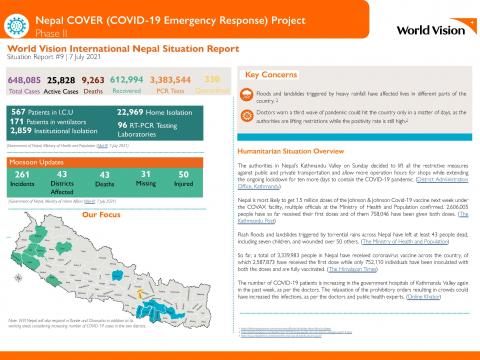 Nepal COVER Project Phase II SitRep 9 (7 July 2021 update)
Wednesday, July 7, 2021
Following are the major highlights of Nepal COVER Project – Phase II, as of 7 July 2021:
983 self-learning materials including stationary items (a dozen pencils, a notebook, an eraser, a sharpener, a pack of colour pencils, clear bag folders and a set of self- learning books) distributed to grade one – five students of Kirtipur and Kathmandu on 5 July, 2021. Self-learning materials have been provided with an aim to help children keep their learning ongoing even during closure of schools during the COVID-19 lockdown.

The seventh episode of radio programme "Hamro Ghar Hamro Paathsaala" has been broadcast to remotely engage children to continue their learning during the prolonged nationwide COVID-19 lockdown.

4,574 out of 5,139 (89%) households have benefited from food consumption support as of 5 July, 2021. The food package lasts for almost three weeks for a household of four members.