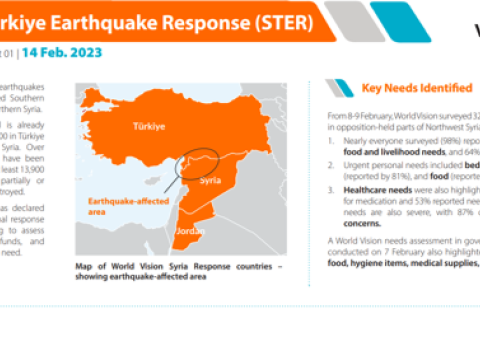 Syria Türkiye Earthquake Response (STER): Situation Report #1
Thursday, February 16, 2023
From 8-9 February, World Vision surveyed 322 earthquake-affected households in opposition-held parts of Northwest Syria to understand needs.
1. Nearly everyone surveyed (98%) reported shelter needs, 87% reported food and livelihood needs, and 64% reported WASH needs.
2. Urgent personal needs included bedding (reported by 85%), clothing (reported by 81%), and food (reported by 75%).
3. Healthcare needs were also highlighted: 86% of people reported need for medication and 53% reported need for first aid supplies. Protection needs are also severe, with 87% of respondents reporting safety concerns.
A World Vision needs assessment in government-controlled parts of Syria, conducted on 7 February also highlighted needs for bedding, clothing, food, hygiene items, medical supplies, and clean water storage items